I've been ROM hacking for a long time, constantly coming up with new ideas for stories and hacks, but now, for the very first time, I'm finally ready to release one of my hacks, and so, I present to you: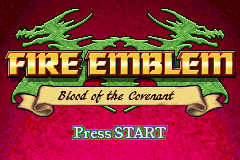 Fire Emblem: Blood of the Covenant!
So, just what is Fire Emblem: Blood of the Covenant? Well, it's a ROM hack of FE8 (Just like basically every other hack nowadays) with a brand new story and characters (that may or may not have taken inspiration from JoJo Part 5) made by yours truly!
Story:
The story of BOTC follows Maya Chiromante, a village girl from the Sanctuis Republic with a strange ability to "sense" things, specifically danger. 5 years following the death of her mother at the hands of the Conquerors, a group of bandits which have a very tight grasp on Sanctuis, she sets out with her long-time friend and confidant Colton to get revenge. However, after her first run-in with the Conquerors ends with her getting captured, she gets an opportunity to join them, and uses it has a chance to destroy the Conquerors from within.
Current Features:
5 Playable chapters (out of 24)
11 Playable characters
Tons of quality of life improvements, such as the removal of Staff animations, health bars, the ability to view growth rates, the ability to view enemy range, etc
Tons of new animations and other graphics to make the game look fresh and unique
New advanced classes, such as the Dark Knight and the Spartan, and a new Trainee class: the Villager.
Things you should know:
This is my first hack that has ever gone anywhere and as such, it means a lot to me and I want it to be good, so please do not be afraid to tell me any and all criticisms you have for it (this includes little things, like grammatical errors)
I know a lot of the portraits aren't great, but they were the best I could do with the free to use portraits available, I do plan to have only unique portraits in the final release
There are no support conversations yet, but there are talk conversations spread throughout
There aren't a whole lot of fancy doo-dads and stuff, like the Skill System, since I'm trying to go for a more simple ROM hack in terms of gameplay (I'm also not creative enough to make super cool and unique maps with a lot of experimental ideas like a lot of the other masterminds on this site)
screenshots because that's what all the cool kids are supposed to have:
Screenshots



Link to download:

*if I missed anyone in the credits for the assets used please let me know