It's been a while, but I'm still alive!
Currently at the moment, I am busy with school, so I won't post finished products as fast as I want, but I thought it would be nice to post some wips i've been working on.
Plan of Stones

This little side-project of mine is just me messing with FE8 portraits by editing them a little. At the moment, I have finished everyone from Gilliam to Ross. I plan to revisit Eirika and Seth in the future.


And here are some W.I.Ps I have are of Neimi and Colm, since I've yet to do their frames.

Another two portraits I have been working on are Hawke and Flak from Advance Wars, to celebrate the upcoming release of Advance Wars 1 + 2: Re-Boot Camp!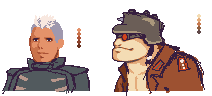 That's it for now, and I'll try to update this thread a little more from time to time.