Hey everyone, I'm PhantomSentine and I'd like to present a project that I've had in the works for a little while now, Fire Emblem: Wrath of the Crusade! This is a work-in-progress FE8 ROM Hack, and was only made possible thanks to the incredible resources put out by this community, in particular the amazing Skill System. This project is still very much still in its early stages, and I hope to keep improving it with feedback from the community to make it into something special. So, without further ado, here's what you can expect from Wrath of the Crusade!
Screenshots: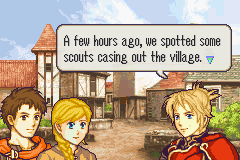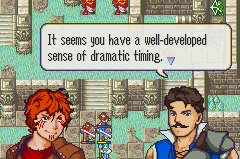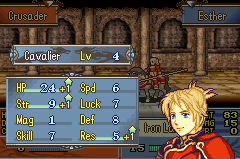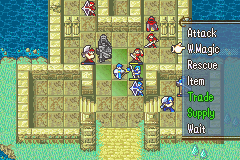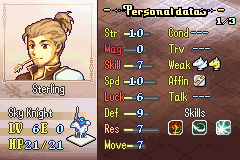 Features:
Playable through chapter six, including a prologue. The current plan for the completed hack is roughly 25-32 main-story chapters.
This hack is balanced around the "Difficult" setting, and is intended to be fairly challenging after the introductory chapters. "Normal" and "Easy" currently features lowered enemy stats but no other changes.
A Fates-style weapon triangle, where Swords/Tomes > Axes/Bows > Lances/Daggers. Tomes are further broken up into the trinity of magic, where White > Dark > Anima.
Fates-stlye weapon triangle bonuses, which are based on the advantaged unit's weapon rank. Units also gain weapon rank bonuses, but lose these bonuses while at weapon triangle disadvantage.
Light magic and staves have been combined into white magic. Staves are used through the relabeled "W.Magic" command.
Fates-style battle calculations
Hit: (Skill x 3/2) + (Luck x 1/2)
Avo: (Speed x 3/2) + (Luck x 1/2)
Crit: (Skill - 4) x 1/2
CrEv: Luck x 1/2
The doubling threshold has been increased to 5.
Weapon rebalancing based on Fates. Weapons have infinite durability, but more powerful weapons have various drawbacks (i.e. attack speed penalties, after-combat debuffs, etc.).
A reworked WExp system, where units only gain 1 WExp per combat. Weapon rank WExp thresholds have been generally lowered to compensate, resulting in slightly slower but more consistent WExp gains between units.
Thieves (and certain promoted classes when they become available) use daggers. Daggers can attack at ranges 1-2 and apply debuffs to their target after combat.
Con, Aid, and weapon weight have been removed. Player units can rescue any blue unit, but can't rescue green units.
Adjacent allies provide each other with a +10 Hit bonus, but these bonuses are halved if there is more than one adjacent ally (i.e. 1 ally = +10, 2 allies = +10, 3 allies = +15, 4 allies = +20). All factions gain these bonuses, including enemies. This bonus is part of a reworked support system that will be expanded upon in the future.
Fates-style skills! All playable units, and some enemies, have unique personal skills. Unpromoted classes learn skills at levels 1 and 10, while promoted classes learn skills at levels 5 and 15.
Plot:
In the heart of the Empire, a long shadow is cast by a rising army calling itself the Crusade. Endorsed by the Church of Khairn, the crusade marches across the land, conscripting those who submit to their rule and eradicating all who stand in their way. An enigmatic warrior known as Ashatiel leads her crusade in their conquest, claiming to serve the will of the gods.
Quickly establishing their dominion, the crusade begins to spread to even the furthest corners of the Empire. When the crusade reaches the isolated village of Westhaven, two friends, Alain and Skylar, find themselves drawn into a conflict that will shape the future of their nation and beyond.
Download it here!
Wrath of the Crusade v0.1.4.1
Previous Versions
Wrath of the Crusade v0.1.4
Wrath of the Crusade v0.1.3
Wrath of the Crusade v0.1.2
Wrath of the Crusade v0.1.1
Wrath of the Crusade v0.1
Changelog

Version 0.1.4.1
-Fixed a bug where Chapter Five's "visited three houses" dialog kept firing after every action.
Version 0.1.4
-Chapter Six has recieved a major overhaul, featuring a completely new map.
-In Chapter Five, Cyrus is no longer on the map as a green unit at the start of the chapter. Instead, he appears at the start of turn 2 as a player unit without needing to be recruited. This is to accomodate Cyrus' expanded role in future chapters. He now also has a "retreat" quote when defeated instead of a "death" quote like Johanna.
-Fixed Chapter Five's victory condition. Units will no longer be able to escape before three houses have been visited. After visiting the third house, a dialog will display indicating that you may now escape, and the "Escape" command in the unit menu will no longer be greyed out while on an escape tile. The chapter now uses an ASMC script to properly check that the victory condition has been met, as the event-flag based check was prone to misfiring before three houses had been visited.
-In Chapter One, the myrmidons that rush Mischa now have bronze swords instead of iron swords.
-Implimented Crazycolors5's Fates EXP system. Experience points earned from attacking and defeating foes now greatly diminished when the player's unit is a higher level than the enemy. The reduced EXP curve is more strict the higher the difficulty mode.
-Changes to Staff EXP gains. Each staff now has its own hard-coded EXP value, as opposed to being based off of cost. In the future, these values will scale with the difference between the staff user's level and their target's level.
-New custom Modular Minimug Box. The new minimug box now displays skills known, but no longer displays HIT, ATK, AVO, and CRIT values to keep it within a reasonable size.
-Maps now display animated indicators for things such as escape zones, defend points, etc.
-Map sprites now have an indicator on them (red down arrow) when they have a stat debuff applied to them.
-Now uses StanH's patch to fix a bug caused by having multiple MoveWithLeaderAI groups.
-Now uses Optimized AI Unit Movement Routine by HyperGammaSpaces. There should now be fewer pauses between enemy AI activations.
-Ballistas have been reworked. Ballistas are now fixed in place and cannot be ridden. Instead, they can be operated from an adjacent space (indicated by a flashing purple icon) by a unit with the appropriate weapon type. Ballistas can be operated by bow user, while Fire Orbs can be operated by any tome user (white, anima, and dark). Enemies cannot currently use ballistas, becasue trying to develop the AI for it made my brain hurt.
-Item prices are no longer calculated based on uses remaining. All items are purchased for their full value, and sold for half their value.
-Capped weapon ranks now glow green on the unit status screen.
-On "Normal" and "Difficult" modes, enemy units have a minimum of C-Rank in all weapon types they can use.
-Alain's Exile class now uses a custom map sprite.
-Alain's base speed has been decreased by 1 (to 7), and his speed growth decreased by 10% (to 55%). Previously, if he got lucky with Speed level ups, he could easily begin to double everything and snowball into a powerful offensive threat. His offensive potential should now be curtailed, in line with his role as a healer and chip-damage dealer (and knight eraser).
-Mischa's base speed has been increased by 1 (to 7), and her speed growth increased by 10% (to 45%). She now has the potential to double slower enemy classes and prevent doubles from mid-range speed classes. She tended to greatly underperform compared to other axe users (namely Johanna and Cyrus), but she should now be slightly more competative.
-Hecate's base speed has been increased by 1 (to 6), and her speed growth increased by 10% (to 40%). She's still not going to double, even against handaxe and javelin users, but she's no longer so abysmally slow that everything can double her, allowing her to utilize her mixed bulk more effectively.
-Cassandra's personal skill (Proactive) now grants Str/Skl+4 instead of Str/Def+4 after attacking on player phase. Her ability to become a nigh-invulnerable wall, combined with her Seal Def skill, was blatantly overpowered.
-Sterling now uses a distinct male sky knight class, as opposed to using the standard female sky knight class and using a forced custom animation. This should have no practical change as of yet, and is mostly future-proofing as forced animations do not display properly during promotion animations.
-Gilgamesh no longer uses flasuban and DerTheVaporeon's Archer Repalette as a forced animation (same reason as above). All male archers now use a new repalette to accomodate Gil's darker skin tone and maintain the spirit of the original GBA animations.
-(Hopefully) fixed a bug where units would apply their weapon debuffs (such as daggers) to their enemy even if they didn't attack, if that unit had successfully applied their weapon debuffs during their previous combat.
-Fixed theives' melee animations so that it now holds on the proper frame while waiting for their foe's HP bar animation to finish.
Version 0.1.3
-The prologue through chapter four have recieved minor reworks. Some enemies will now spawn without their default class skills. Chapters three and four have reworked enemy placement and reinforcements, and chapter four has had a slight map overhaul.
-WExp has recieved a major rework. Units can now only gain 1 WExp per combat (i.e. doubling does not grant 2 WExp, no bonus WExp for kills). WExp required to attain each rank has generally been lowered to compensate.
-Implemented method to spawn units without their default class skills
-Gil has recieved 2 more HP at base (up to 20) to make him just a little less squishy.
-Wall HP during Chapter Three has been incresed to 30 (from 25).
Version 0.1.2
-Chapter Five now has no village requirement before escaping due to unresolved bugs causing a game over even when the victory condition had been met. The visit-three-village requirement before escaping will be restored in a future version.
Version 0.1.1
-Missed a NoFade in the prologue, whoops.
-Changed canto to not trigger on seize (and by extension, escape + arrive) which fixes a bug where a unit with canto that has a rescuee escaping last durring Chapter Five would get stuck in a loop where they can't end their turn.
Version 0.1
-Initial release!
Credits:
(If I missed anything, please let me know!)
Tech Stuff
Big thanks to everyone who contributed to the Skill System!
Battle Animations by Character - Tequila
Status Staff Modifications - Datagne
Remove Unused Weapon Ranks on Promotion - Venno
Murder Sticks - Zeta, Gilgamesh
DSFE Style Healing - Venno
Modular Minimug Box - Zane
Fates EXP - Crazycolors5
LeadAIFix - StanH
FillAIDangerMap - HyperGammaSpaces
Battle Animations
Vanilla Knight w/ Axes - TBA
Female Fighter - Black Mage
Archer Repalette - flasuban, DerTheVaporeon
Male Pegasus Knight - SixThousandHulls
Wyvern Rider w/ Axes - Mikey Seregon, Alfred Kamon
Improved Soldier - Alusq
Male Mage Lord - Eldritch Abomination
Female Mercenary - TBA
Male/Female Thief Repalette w/ Knife - Pikmin1211, Maiser6, Skitty, GabrielKnight
Princess Celica - Red Bean, Jeorge_Reds
Map Sprites
Priest Improved - flasuban
Knight w/ Axe - Agro
Female Fighter - Alusq
Alt Soldier - Alusq
Female Mercenary - Agro
Priestess Celica - blood
Wyvern Rider w/ Axe - flasuban
Tilesets
Updated Stronghold Tileset - N426
Updated Village Tileset - N426
Conclusion:
I really hope you enjoy Wrath of the Crusade! I've done my best to bug test but I can't promise I've caught everything, especially in the later chapters. Please let me know if you find any bugs. And of course, thanks for checking out my project!