It's been a while. Time for something new. Something very new, indeed.
Ulmaron. A world of constant change. Of mystical researchers. Of fierce warriors. Of fallen kings. Of undying darkness.
A young noble, seeking to prove herself. Her path will place her at the center of a conflict that may very well decide the future of the continent.
Hello, FEU! Retina here. I'm proud to introduce Project TMGC, a new Buildfiles hack.
Before you ask "why TMGC?", I'll just say that I needed to call this something, and the words behind the acronym TMGC just popped into my mind. (definitely won't pull a Project Triangle Strategy and keep the placeholder title)
As this hack is still relatively early in development and constantly changing, I probably won't constantly update the patch here - rather, you'll be able to get nightly-ish releases in the Discord server. Additionally, you can always clone the repo and build the patch yourself.
Download the current patch here! (Last updated: 5/7/23)
Join the Discord server to download the latest nightly release and talk with other players! (That's also where I'm by far the most active if you have feedback or questions.)
Check out the Github here! (If you're interested in the technical side of things, this is for you.)
Featuring:
-A campaign with 30 planned main chapters, as well as 8 chapters involving 2 side parties! [Current progress: Prologue-Ch.V finished, 21 and onwards oof]
-A whole bunch of interlude chapters featuring Mokha's FreeMovement Rework - a nice spin on the typical battle-preps chapter.
-A more tightly designed iteration of Code of the Burger King's stat and weapon design.
-Tellius-style base conversations and redone supports, courtesy of Snek - all supports now provide personalized bonuses.
-Proc skills implemented as 3H-style Combat Arts. (look it was a cooler bullet point back before FEB Skillsys was updated)
-A sprawling soundtrack featuring both F2U and custom music!
-Lots of wacky items and weapons! (including a slew of staves from Teraspark's staff rework)
-A conversation viewer, so you can read to your heart's content!
-Much more!
NOTE: This hack is still very WIP. Lots of assets, text, and other elements are subject to change. Additionally, all testing has been done with mGBA - keep that in mind if you use some brand of VBA and things break.
Screenshots: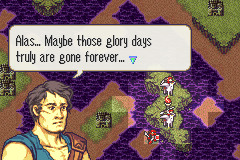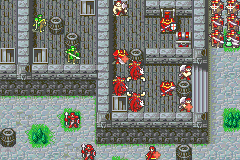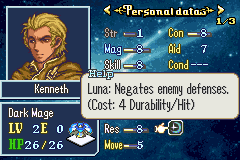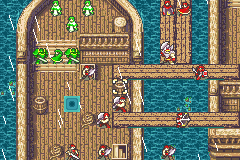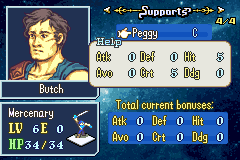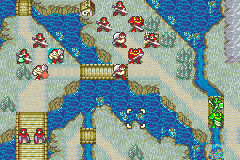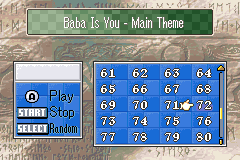 In addition to Normal, Hard, and Lunatic difficulties, there are also various growth options and a reverse mode toggle - may God's love be with you if you try them.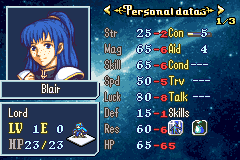 Asset credits listed throughout the Github - if I forgot anyone, let me know! (once this thing is more done i'll formally put together credits in one place)
Special thanks to everyone in FEUcord who has to put up with me in #buildfile_help, as well as everyone in my server - you guys are pretty swell.
just like last time, it's just a funny name