Hello and welcome. Today I have for you a very special game demo I've been working on for almost 3 years now, and just in time for Easter.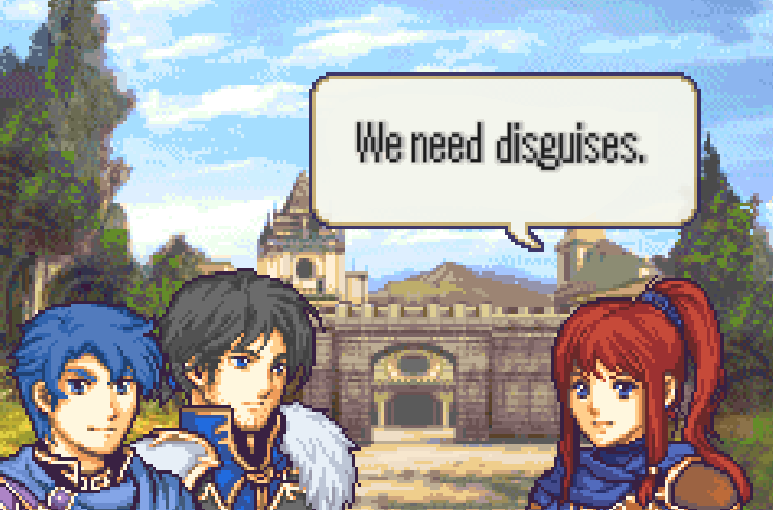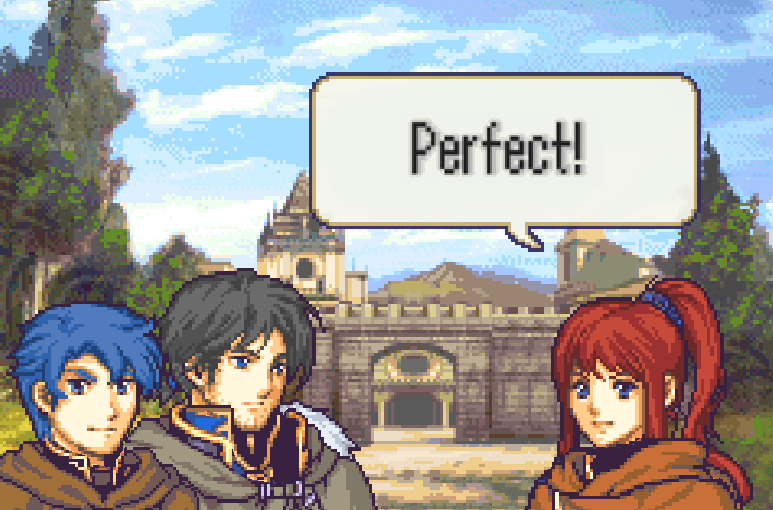 FE Oathbreaker is a rom-hack of FE8 with a completely original story, original cast of characters with original portraits done by the very talented monk-han, an original setting and world, and familiar game-play mechanics and troupes that makes FE well, FE.
Features

Original cast of 42 playable characters, all with personal skills. (16 playable in this demo)
A custom class system with non-branching promotions.
Custom overhaul of the classes skills using SkillSystems. No 2 characters will have the same exact skills based off of what they started as/what they promote into. Skills are learned at class levels 5 and 10, for un-promoted and promoted classes.
Beloved FE troupes such as the Christmas Cavs, Jagen unit, axe fighter duo, cute anime pegasus girl, crappy archer, and a Lord trio.
Custom animations from the repo for some characters and classes.
Custom music from the repo, as well as some remixes of songs I ripped from other GBA games.
Original maps with unique and varied objectives and side objectives.
No supports as of yet in the demo, but a full gba style support system is planned for the final release.
I set the animations to 2 and the game speed and text speed to fast right off the bat you're welcome.
And you get a Devil Axe in chapter 1 so you know it's a good game.
Characters

Everyone loves the cast of FEs right? Well here's your army of units that you can get killed in the most terrible and stupid of ways. All while they praise you for your "Tactical Genius"


Name: Kumatora
Starting class: Lady
Details: The first lord of the game, you will experience the events of the story through Kumatora's point of view. A thief turned princess, seemingly overnight. Kumatora can have a bit of a short temper and gets flustered when plans start to fall apart. (and they often do with Isaac and Joseff around) Still, a good natured, down to earth, realist. She lived a harsh life of an urchin for years and has a hard time adjusting to life as a noble, let alone as the princess of Veosia.
Age: 19
Affinity: Ice
Personal Skill: Sneak Attack: +4 damage if the foe cannot counter.


Name: Isaac
Starting class: Lord
Details: Isaac is a young gifted mage and the well-mannered crown prince of Veosia. For a male to be able to weave the arcane is near unheard of. Not impossible, but a rarity indeed. Only the most gifted or the most studious pursue such a life. Most young men fall into martial practices, while any that would be magically inclined turn toward the divine side of magic, as the Church of the Omniscient has such a huge impact on Veosia as a whole. Isaac is short (He says hes still growing) well spoken, polite, and quite most of the time, but speaks up when it's time. Incredibly intelligent, but naive to the true ways of the world. Sheltered.
Age: 17
Affinity:Anima
Personal Skill: Miracle: Survive a lethal attack if HP > 50%


Name: Abram
Starting class: Assassin
Details: The Jagen of the game. Abram is a well-versed, highly skilled weapon. His loyalty to King Vicar is unmatched due to the King saving him from a life of crime years ago. While completely formal in public view, the two men are very close old friends in private. He wears the Fire Emblem upon his clasp, a gift given to him from King Vicar during his knighting.
His daughter, Jael is his pride and joy, and the only family he has left. As a result hes taken on the role of almost a second father or uncle to Isaac.
Age: 46
Affinity: Thunder
Personal Skill: Protector: When within 2 spaces of a Lord, -3 damage taken, +15% hit.


Name: Adelina
Starting class: Cavalier
Details: The green Chirstmas cavalier. Adelina has served the royal family since childhood. Abram was one of her mentors growing up. As a result, in combat she can tend to be a bit… Brutal.
Age: 26
Affinity: Wind
Personal Skill: Pragmatic: When foe is not at full HP, attack +3 and def/res+1.

Name: Jacqueline
Starting class: Pegasus Knight
Details: A kiddish, green pegasus knight of House Chamille. Jacqueline is a young courier who delivers you a gift early in the game as a sign of good intent between House Vicar and House Chamille. Naive.
Age: 19
Affinity: Fire
Personal Skill: Quickburn: +15 Hit and Avoid. This bonus decreases each turn.


Name: Guinivere
Starting class: Fighter
Details: A woodcutters daughter who's taken up the family business. A kind-hearted kid from the country side, her father can be a bit overbearing. She wants to see the world beyond the 10 mile radius she's been from her home.
Age: 18
Affinity: Fire
Personal Skill: Heavy Strikes: Add weapon weight to critical chance.


Name: Rodbert
Starting class: Fighter
Details: An everyman from the countryside. His daughter is his world. Father to Guinivere, a humble woodcutter in the days since his wife left. He hides all the sorrows of a lonely father behind the biggest smile, and loudest laughter. Larger than life, his arms are the size of tree trunks. Overprotective.
Age: 39
Affinity: Ice
Personal Skill: Father's Pride: Gain 2 damage and take -2 damage per 25% below max HP.


Name: Joseff
Starting class: Lord
Details: House Joventon's only son and closest friend of Isaac. Strong, good looking, and personable, the young lord Joventon has everything going for him. An old friend of Isaac, they studied together at House Vicar in their teenage years. Though he was a bit older than Isaac, the two became fast friends in their private lessons. Carefree and loud.
Age: 21
Affinity: Dark
Personal Skill: Puissance: +3 Damage when the user's Strength is higher than the enemy's.


Name: Frances
Starting class: Cavalier
Details: The red Christmas cav, Strong, polite, and well-mannered, Frances is the paragon of knighthood. …And most of his composure is lost when he meets a fellow cavalier in green.
Age: 28
Affinity: Fire
Personal Skill: Chivalry: When foe is at full HP, attack and def/res +2.


Name: Ephraim
Starting class: Nomad
Details: House Joventon's best mercenary client. He doesn't take shots he can't hit. Smart, sassy, and brutally honest, Ephraim tells it like he sees it. He does actually back up his cocky attitude in combat.
Age: 25
Affinity: Wind
Personal Skill: Outrider: Take -1 damage and gain +3% crit per space moved.


Name: Blackleaf
Starting class: Armor Cleric
Details: A mysterious wandering cleric of the "Blade" and a meticulous professional adventurer. He always has the right random object for the job on hand, thanks to his strenuous prepping. He says no man has ever seen him remove his helmet, and lived.
Age: 31
Affinity: Dark
Personal Skill: Will of the Blade: Luck % chance to not consume weapon durability.


Name: Cinder
Starting class: Mage
Details: A talented mage who you meet studying under a local witch, not by her choice mind you. Her financial situation is too tight for her to get a proper education. So she does chores for the forest hag instead, and maybe on occasion the witch will decide to teach her something useful about magic.
Age: 18
Affinity: Fire
Personal Skill: Quick Study: Weapon experience gains are doubled.


Name: Brooklyn
Starting class: Troubadour
Details: House Sauret's secondborn. She seeks to prove herself. Always living in the shadow of her big sister, Brooklyn has recently left home for a life as a mercenary. Unfortunately she's so paranoid that she has a hard time landing jobs.
Age: 21
Affinity:Wind
Personal Skill: Lily's Poise: Adjacent allies gain +1/-3 damage dealt/received.


Name: Seraphina
Starting class: Archer
Details: A spoiled noble from House Tricaea. She insists to see the world. She decided to travel 'cause she got bored.
Age: 18
Affinity: Wind
Personal Skill: Vanity: Gain +2 Damage and +10 Hit when fighting enemy at 2 range.


Name: Bertran
Starting class: Armor Knight
Details: A weathered old knight way past his prime, he refuses to retire and lives for adventure. Probably has a screw or two loose.
Age: 69
Affinity: Thunder
Personal Skill: Let Them Come: When under attack, damage +3.


Name: Conner
Starting class: Wyvern Rider
Details: A simpelton of a wyvern rider. Fancies himself quite the ladies' man. Conner is a young soldier whose priorities are set more to his uh, future lineage, than his family history that he's fighting for.
Age: 23
Affinity:Fire
Personal Skill: Gentilhomme: Female allies within 2 tiles receive -2 damage.

As of now all the portraits are not f2u/f2e. This will most likely change when the hack has it's full release.
World Map


Until I can figure out how to do the infernal world map events, here's an image of the continent of Veosia along with pointers to where each of the High Houses are located.
In game Screenshots












Detailed Super In-Depth Guide for Difficult Parts *Warning Spoilers*
Credits

Portraits:
The great and talented monk-han for the majority of the custom cast
Ghostblade
JiroPaiPai
Kanna
LaurentLaicrox
Lenh
Levin64
MeatofJustice
Nickt
Nobody
Random Wizard
EDGE
Cravat
Marlon0024
Plant Academy
Sterling Glovner
L95
Wave
Errant Shepherd
Lt Smirks

Spell animations:
Shuterz
Mikey_Seregon
St Jack

Animations:
Pikmin
Der
Deranger
Spud
JeytheCount
Nuramon
Jubby
Redbean
Tact Hack
GoofyfanG56
Greentea
TBA
SALVAGED
7743
Yuzaki
Almirage
N426
Seal
Jotari
RiriK
FE Girls
Temp
Alice
Yangfly
Teraspark
Seergiioo
Aurka
Obs
Eldritch
RetroGamer
Greentea
Cranjam
Luerock
Ayr
GabrielKnight
Memae
Iscaneus
PurpleMage
BlackFomor

Music:
MysteriousDancer for rehosting the repo.
HyperGammaSpaces

CGs:
monk-han

Icons:
Lord Glenn
2Wb
AtelierLabs
Batima
Beansy
Celice
EldritchA
George Reds
Jubby
Purple
Rainlash
Zarg
Seal
Zane
Zelix
Zessdynamite

Patches:
7743
Argo
Vesley
laqieer
Contro
Stan
circleseverywhere
Scraiza
Brendor
Kaito
Tequila
Hextator
Hextor
HyperGammaSpaces
Snakey1
Leonarth
ipatix
Sme
REDFE
unuesu
Pandan
ZaneAvernathy
Alusq
aera

Special Thanks:
Klokinator for hosting the repo.
UltraxBlade for their massive FAQ post.
And players like you.
Changelog

4/8/23- Game went live
4/9/23-

Fixed a visual bug when skipping dialogue in the prologue
Nerfed Thornes Str by 3 and Spd by 1
New Icon for Charisma
Chapter 3 is now also cleared when defeating the boss
– You now cannot miss the guiding ring (and therefore be softlocked) if Reggie kills the boss before you steal it. You will get it in the end event if you do not already have one. (So no, you cannot get 2 by cheesing it)
Reggie now has a goodbye scene if he lives. Bye Reggie.
Fixed a palette for the soldiers in chapter 5 (They are no longer all wooden dummies)
Wing Spear no longer gives you 5 mag. That was weird.
Slight portrait updates

4/11/23-

More slight portrait updates. Joseff now smiles when he should.

4/13/23-

Nerfed all blow skills slightly.
Nerfed Wing Spear Mt. by 2 and hit by 5. Idk what I was thinking basing it off FE12 stats.
Buffed Frances' Con by 1.
Buffed Joseff's Str by 1.
Joseff now has a prf. weapon, which is a stronger axereaver.
Moved location of south door on chapter 2
Changed Cinder's personal skill from Hit +20 to Discipline.
Changed Bertran's personal skill from Provoke to Strong Riposte.
Ethel now spawns the books around the escape point instead of around herself when stealing the ring.
Jarred now has a ranged option. Removed his killing edge and changed his personal skill.
You can now buy steel swords in chapter 4x prep shop.
Swaped 4x's southern chest's armorslayer with lancereaver.
Kumatora and Isaac now gain support rank C after the scene in the beginning of chapter 5. You can support with up to 5 people instead of 5 convos in this hack, with only 1 A support partner. Most units only have 5 support partners anyways. Still haven't implemented other supports and do not plan to for this demo.
Minor changes to some units growth rates.
Slight portrait updates

5/29/23-

Apply the ups patch to a clean FE8 rom and make sure the .gba file name is the same as the .sav file name for these changes to take effect.
And of course the download link, the discord server is just to host the link for now. Please leave any feedback on FEUniverse for now.
Cheers,
Brober