Hello, everyone. This is my first post but I've been lurking for a little while. I hope that you enjoy this hack project that I've been working on for around 4 months, mostly in secrecy. I don't really work on it as often as I'd like because of my job but let's hope I can update it often enough so it doesn't get forgotten.
About Me

I've been lurking in the FE community for more than a decade. I never really did anything of mention until now, so I might as well be new to it.
This is my first time ever making a hack, so I wanted to start with something somewhat vanilla, nothing really groundbreaking here. Still, I believe there are some unique twists and themes here. But yeah, this is my first time making mugs, "arranging" music, making maps and all that stuff.
Story


It is the year 847. The continent of Pyrmont is in turmoil. Although the landmass is divided into several protectorates and duchies, it is controlled by one superpower: the empire of Feuerburg. Rebekka von Krauser, its young and inexperienced empress, who has been unable to keep the collapsing nation in control, with peasants and nobles all hunting for her head.

After a tragic event in the small town of Lirim, a group of five villagers join forces to investigate a mysterious raid, and possibly take down the empress themselves. Miriam, a high-spirit alchemist. Charlie, the adventurous hunter. Jacob, the eloquent mage. Lily, the inexperienced, but caring, lancer. And finally, Roman, an amnesiac youth who survived a shipwreck. This small army of rebels leave their ruined land, unaware of the long-lasting effects their actions will cause.
Screenshots: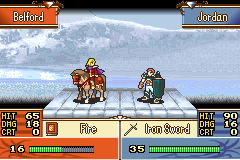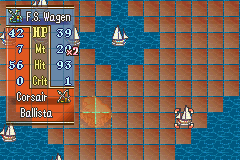 Features

25 chapters.
All new story with 40 playable characters, also completely new (except for one cameo).
Several maps feature naval warfare, where you control ships instead of people, with different types of ballistae.
Supports are implemented! They also build really fast.
As I said before, things are very vanilla, but expect skills and some QoL stuff. (Open to suggestions for more patches.)
Some balance changes, mostly buffs to some classes. See below for more information.
Easy, Normal and Difficult are all implemented. Easy is closer to vanilla FE8, while Difficult assumes good strategy and unit raising. A few enemy reinforcements are Difficult-exclusive.
Changes from vanilla

Soldiers and monsters have received considerable buffs.
Thieves now promote into either Swordmasters, who have received slight buffs, or Assassins, who now have all the perks the rogue class had.
Myrmidon now promote into either Swordmasters or Rangers.
Playable Soldier and Brigand. Also, playable Fleet because why the hell not.
1-2 swords are now as common as hand axes and javelins.
General Guide

Flames of Redemption General Guide

This spreadsheet includes a character and a class guide, along with instructions on how to unlock the secret character and epilogue. It's divided in spoiler and non-spoiler sheets, so you can safely avoid spoilers if you want. This guide replaces the old recruitment guide, and will also be useful for those who want to know what skills a certain character will learn, who they support, and what their promotion options are ahead of time. You can also use it to look at the character portraits, I guess.
Secret Shop

For those who can't find it. There is only one secret shop in the hack, and it's in CH12. Once you complete it, you can sell the card if you want.
Known Bugs

Some of the cutscenes still have glitchy effects, specially in CH6.
Reiner will show his death quote in CH8 even if he's retreating. Losing him there doesn't affect anything.
The enemy thieves may attempt to unlock doors that they can't open in CH11.
Killing Zee early with a Harpoon in CH14 may softlock the ending cutscene. This can be bypassed by skipping the cutscene, but it's better to ignore him.
Some of the tiles in Ch18 are corrupted for unknown reasons.
Disembarking from the Mothership in Ch21 when there's another unit near the coast may cause the game to freeze. You can still close the game and resume if this happens.
Not a bug, but the end credits look like crap. Still legible, though.
Reverse Recruitment

Yes, there's a reverse recruitment version now. Please keep in mind that it was made in late 2021 and there are no plans to update it, but it's playable from start to finish. It should be obvious, but this version is not recommended for first time players.
(UPS patch can be found in the download link below, along with the other patches)
Finally made a Discord server. Please join if you'd like to report bugs, discuss this project in detail, give feedback, offer a hand or simply chat with us:
Current release:
Fire Emblem: Flames of Redemption 1.0.5 AKA. "Still Alive and Kickin'" Edition
This new update includes some bugfixes, and an alternate version of the patch that reintroduces the Support Viewer, with all support conversations unlocked from the beginning. It's buggy, and it shows some characters with no data, but it works. Also, the weapon rank bug has finally been completely fixed!
For additional credits, please see the Readme file.