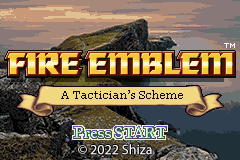 (Renamed from FEDK, as it was always meant to be a placeholder title.)
So, what do you like the most about Fire Emblem? Is it raising units from zero to hero? Epic stories about conquering half the continent? Or perhaps reading support conversations and playing cupid? If you answered yes to any of the previous questions, this may not be the project for you.
This is A Tactician's Scheme, where you play as a tactician tasked with hiring mercenaries, and commanding them to victory. These mercenaries are generic, disposable units with a fixed equipment. You start every chapter with a predetermined amount of gold, and the only way to get more is by killing enemies and completing side objectives. The game is all about short term decision-making, as your both your party and gold will reset after every chapter, so it's like RTSs or Advance Wars in some ways.
I've seen other similar concepts in the form of FE ROMhacks, but nothing quite like this (if you haven't, Storge and Iron Emblem are worth checking out). If someone has already done this exact idea, then it's too late to stop me anyway. And if it sounds a little daunting, I promise that it's actually very easy to pick up and play.
Screenshots





Gameplay Changes

To encourage a more strategic playstyle, weapon (and magic) triangle effects have been significantly increased, and most units are locked to one weapon type. Weapons have also been simplified to one tier.

Despite this, I don't necessarily want the hack to have only one optimal strategy, or anything like that. I'd like for people to have fun with it, over everything else, so multiple playstyles and meme strategies will be encouraged. You can run a team with devil axe fighters, pirates, or dogs if you wish.

CLICK HERE TO SEE THE AVAILABLE CLASSES, THEIR SKILLS, AND THEIR LOADOUTS.
Story

Although this is a gameplay-first hack, there IS a story. Perhaps a little too much. This game is technically a prequel to Flames of Redemption, my previous hack, as it takes place in the same world. However, it's not necessary to play FoR to understand or enjoy the story in this hack. Aside from some cameos, all the context you need is provided here.

You play as Ellis, a bodyguard working for Abigail, a noblewoman from the empire. When pirates attack their ship, Ellis is captured by the ruthless pirate Magnus, and he decides to pretend to be an accomplished tactician in order to avoid being killed. Ellis is then forced to help the pirates in their conquest of Borth, an island kingdom that has seen better days…
Credits

This hack wouldn't have been possible without the repo. Please open the credits file included with the .zip before you play for a detailed list of who made what. I tried to put everything here but it just looked too messy.
Notes

You can only "summon" nine units of the same class per chapter. This only applies to blue units; you can summon as many monsters as you want!
Changes from the beta

No more stat variation: your units now have fixed stats! Every mercenary of the same class you hire is guaranteed to have the same stats with two exceptions. You may sometimes get a female mage, who have slightly different stats. This also doesn't apply to a certain class seen in Ch5.

You are now able to back out of the summoning menu after talking to a trainer without buying a unit (You still can't perform another action, though! I think that would break the game.)

Monks and Shamans have been removed. Your mages can now use light and dark magic, and now have Shine and Poison in their inventories.

Fire is now Explosion, a powerful 1 range spell that is effective against… dogs?

Game doesn't default to hard mode anymore, and you can play it in Normal mode.

Poison is very deadly now! Also, keep in mind antitoxins and restore staves don't exist in Borth.
Download link:
Version 1.0
The first complete version! There are two difficulties now: Normal and Difficult. I strongly suggest picking Normal.
Feel free to join my Discord server if you want to chat or help out: