This is an FE8 PME that I decided to try out. Really any edit can be made, whether it be characters, classes, events, maps, or anything else.
Rules:
-Not a single FE8 character or map can remain the same (no edits to vanilla FE8 characters)
-Maps must be larger than one screen (at least 17x13 size)
-Anything requiring graphics insertion has to be sent to me so I can insert it (portraits, custom items, etc.)
-No self inserts, only original characters or characters from other games
-Custom classes or items are fine
-Any suggestor can add as many edits as they like
There are going to be around 25-30 chapters total. Enemy placement and events will be handled by me unless somebody else wants to do it for a specific chapter. Characters will join in the order they are suggested. There is no limit to the amount of characters that can be added. The types of edits that can be made are here. If something is not on here, it doesn't mean that you can't do it. Be creative.
Boss characters are also an option for additions.
New characters must specify a name, class, portrait(formatted correctly), starting stats, inventory, and growth rates. Any extra character edits will also be accepted. I will not be using the skill system, so don't list any personal skills.
There's a discord server for the PME, check it out if you're interested.
I will put any edits I have already applied here.
Currently the PME is finished through chapter 1.
Screenshots: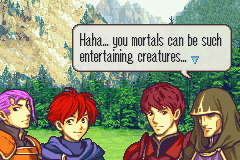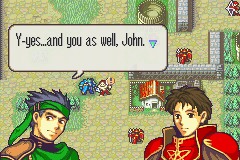 Credits:
DerTheVaporeon - Archer battle animations
Nuramon - Armor Knight battle/map animation, Sniper battle animation
Alusq - Fighter map sprites
Greentea - Ursula Valkyrie, Kent Paladin
RobertFPY - Ursula Valkyrie, Kent Paladin, Cavalier class card
Team SALVAGED - Cavalier animation
Marlon0024 - Fixed Manakete
Leo_link - Mercenary battle animation
Iscaneus - Mercenary battle animation, Armor Knight battle animation
Teraspark - Shaman battle animation (Monk repalette)
Ash3wl - Shaman map sprite (alternate Mage map sprite)
LordGlenn - Most new weapon icons
Zelix - Fates weapon icons
CamTech075 - Twin jolt icon, Wind edge icon
Anything that I didn't credit was made by me.
Download version 0.2 here: