This hack is based around extreme stat deflation, sort of a concept hack to play around in the design space to see how far I can push down the stats and still have a functional, fun fire emblem experience with everything stripped back.
It also has a plot but I can't promise a groundbreaking narrative in 5 chapters!
Hopefully for the denizens of FEU this should be an interesting little project to waste a couple hours on, I hope people find it fun!
As always, feedback is greatly appreciated and always a treat to get so feel free to leave your thoughts below.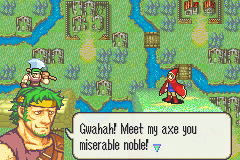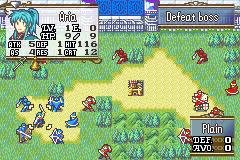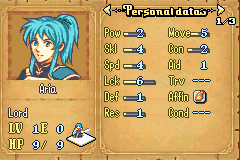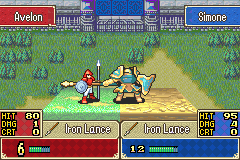 Credits

Development and Writing:

Patches and ASM:
01command_hack - Hextator, 7743
16 tracks 12 sounds - Argo, Brendor
Actions After Support (Contemporary Style) - circleseverywhere, 7743
Actions After Talk (Contemporary Style) - circleseverywhere, 7743
Add Event: Get/Set Unit Status - 7743
Adjust Mode Coefficient Experience Gain - VennoBennu
Anti Huffman Patch - Hextator, 7743
Cavalry Rescue Value for Men - 7743
Cavalry Rescue Value for Women - 7743
Change Easy and Normal Mode Penalties into Bonuses - Shuusuke
Change formula of automatic growth auto level of enemy - stan
Change image in upper right of the preparations - 7743
Change Maximum Luck Cap - 7743
Change Minimum Damage From 0 to 1 - midori patch
Changing the Universal Doubling Threshold (attack speend) - macplustrees
Convert Chapter Titles to Text_ver2 - circleseverywhere, 7743
Disables the Prep Store for a Particular Map 7743
drumfix - circleseverywhere
Fe8 Battle Stats with Anims Off ver2 - Vesley, Tequila
FE8 Display Growths - Tequila
FE8 Null Move Display - stan
Fix CAM1/CAMERA2 going out of bounds = TR143
Fixed Growths Mode - TR143
HPBars_with_warnings - circleseveywhere, Tequila
Limit Weapon Rank Display - jjl2357, Blademaster, Hexator, Tequilla
Limitless Trading - aera
Map Danger Zone (Select: Toggle) - circleseverywhere
Modify Number of Supports - Brendor
ModularMinimugBox 2018 (VisionQuest Style with ItemList) - Pandan, Scraiza, ZaneAvernathy
Multi Class Pick Skill - kao, 7743
Multi Tile Marker Display multiple exit markers on the map - 7743
Playable Character HP Limit - 7743
Prevent Freeze for Camera Event 0x26 - 7743
Remove arrow wiggling advancing RN - Crazycolorz5
Remove Support Viewer - Aera
Remove the menu that displays the support list from the preparation screen - Shuusuke
Set Default Option "Animation" - 7743
Set Default Option "Cursor etc" - 7743
Set Preperations Store Pricing - aera
Set Staff Experience - 7743
Show Heal Amount - Tequila
Skip Intro and Class Roll - 7743
Skip World Map Fix (Remove World Map Completely) - 7743
Skip: Game Opening Demo - Fati
Skip: Opening (OPENING_CUT) - 7743
Sound NIMAP - circleseverywhere
Sound NIMAP2 - Alusq
Sound Room 100% Unlocked - 7743
Stat Bar Max Length - 7743
Toggle Difficulty Select Skip - Stan, 7743
Toggle New Game Intro Cutscene - circleseverywhere
Toggle New Game Text - circleseverywhere
Toggle: Health & Safety Warning - circleseverywhere
Upper Limit of Moving Power - beikehanmu
Vulnerary Heal Amount - 7743
256-Color Title Background - Leonarth

Portraits:
Aria - Levin64
Eloisa - Laurent Lacroix
Dariel - Knabepicer
Simone - RandomWizard
Six - Levin64
Milo - RandomWizard
Kale - Kyrads
Eileen - SSHX
Bryan - Laurent Lacroix
Reena - Laurent Lacroix
Saami - Levin64
Luke - Scottythebody
Eli - Levin64
Baldrick - Toa
Mavis - MournfulRelic/Kyrads
Georg - Avalon
Gaum - Roze

Animations:
Fencer - GabrielKnight
Knight (Sword) - TheBlindArcher
Mercenary Repalette - Eldritch Abomination, Knabepicer
Berserker - DerTheVaporeon
M!Pegasus Knight - SixThousandHulls
F!Mercenary - TheBlindArcher
Thief - Skitty, GabrielKnight, Pikmin1211, Maiser6
F!Fighter - Black Mage

Weapon Icons:
Javelin, Hand Axe, Dagger, Iron Poleaxe, Steel Poleaxe, Iron Pike:

Greatbow - Lisandra Brave

User Interface & Other Graphics:
Stat Screen - feels
Title Screen - Samuel Earp

Music:
All FE3 Music - Sme
FE5 Squadron B - Dolkar
FE12 Before Battle - Scraiza

Playtesting:

Leche
Pandan
Sdaht
Bpat
Godspetturtle
Moris

Special Thanks:

7743 for FEBuilder
FEU community for all the amazing resources and support for hacking!
Changelog

V1.1

Graphics Fully Updated (Title Screen Bug Fixed)
All Portraits and Palettes Done
Writing Tidied Up
New Final Boss Map Theme
Various Balance Changes to Classes, Characters & Items
Talisman Buffed
Various Enemy Placement & Equipment Adjustments
Terrain Healing Buffed
Misc Errors and Bugs Fixed
Weapon Experience Gain Improved