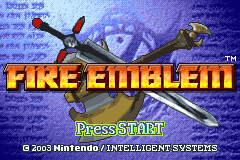 Hello everyone. This is my first attempt at a Fire Emblem rom hack, and I'm hoping it's well received.
This hack is an attempt to rewrite Fire Emblem The Blazing Sword's story to encompass the events of Lyn's parent's deaths as well as try to incorporate Lyn into the story as a more involved protagonist rather than a third wheel. Pretty much all the scenes have been rewritten to account for the 6 months gap in time this create, with many additional characterization scenes added. Expect old favorites like Batta to play a more involved role
Right now the patches covers the events from Prologue - Chapter 3 End. I hope to make the game into a full fledged rewrite if time permits, but for now this serves as a demo of my ideas as this point in time. Please let me know what you think.
Download Link: https://drive.google.com/file/d/1tUJVo23TRBGzT436B3p4x6mD0KpFmgV9/view?usp=sharing
Things that have been changed/added

Mani Katti/Sol Katti are now unbreakable and have ranks rather than being PRF (as they are the personal weapons of Madelyn and Hassar)
Maps have been recreated or reorganized to account for story/location changes
Villains are generally not idiots or at least have competent reasons for doing what they do.
Story

Set 6 months before the original story. The game starts with Lyn in her homeland of Sacae, celebrating her 18th birthday with her parents. She receives her mother's Mani Katti as a congratulatory gift, all seems right in the world.

Then suddenly, bandits invade, hoping to get rich from whatever spoils they can find. Madelyn and Hassen urge their daughter to leave whilst they defend her against the bandit attack. They handily remove the lesser bandits, but are ill-equipped to handle the entrance of their boss. After a brief and brutal slaughter, Lyn's world shatters.

Now she begins a journey to avenge her parents' deaths and reclaim what was stolen from her. Along the way, she will meet many allies and foes, each with new and interesting conversations and characteristics.
Screenshots















Please be aware that while this hack endeavors to place a greater focus on Lyn, it doesn't intend to instill her as the central protagonist or change the greater plot. Eliwood, Hector and Lyn will all have equal importance as the story develops and the other protagonists make their entrance.
Also, do try to activate talk events whenever they become available on maps. As the plot will assume you've had these conversations. Characters that can talk to a selected character will have a yellow bubble appear near them for your convenience.
Join our Discord server below: