Hello there! I'm Horrific, and ever since August 25th 2019, I have been working on a romhack for FE7 named 'The Dark Soul'. There is currently 21 chapters (including the prologue) and is about 2/3rd of the way completed through the main story, not including any postgame content. Including postgame content, I shoot for around 36-38 chapters in total. Unfortunately portraits are currently just recolours as I have the artistic ability of a drunk snail and struggle with even the most basic of things.
Screenshots: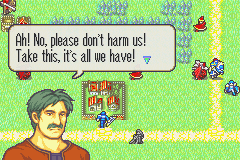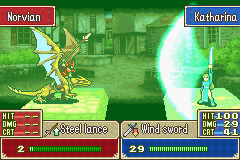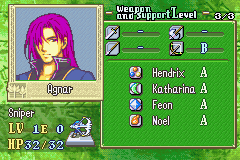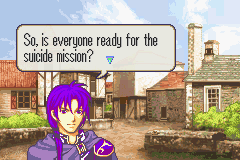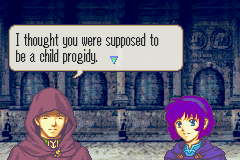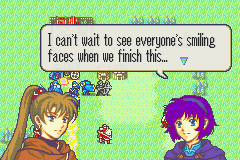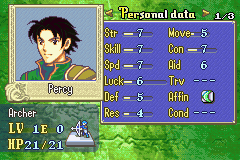 The Dark Soul takes place on the continent of Azall, separated into 4 kingdoms.The Kingdom of Adraxia, the largest and most powerful kingdom, ruled by King Maximus. The Kingdom of Ganaria, the smallest kingdom, ruled by King Lamorak. The Kingdom of Norvia, the northern kingdom, ruled by Queen Arsinoe. And Dragalia, the Dragon Kingdom, ruled by the Divine Dragon Larkeicus. Peace existed across the continent for centuries thanks to the Treaty of Tresgia, however, one day, King Lamorak declared war on Norvia. After being pushed back in the Kingdom's capital, he calls for our heroes, Hendrix and his family, for back-up.
Embark on a fast paced story of corruption, family, despair, depression and grey morality as our heroes struggle to keep going and do what is right against insurmountable odds.
What is offered by this hack?
Two original stories featuring a small but original, deep and explored cast of characters.

New weapons, for example, a personal lance used by the lord that hits enemies resistant stat.

Currently 21 chapters, planned ~38 including post-game content.

Archers, snipers and bows have been buffed.

Talk conversations between characters mid-chapter, granting insight into the world and characters, giving strategies for the maps and occasionally granting items.

A choice between Casual and Classic mode (Note: there is a bug with casual mode. Noted further down.)

Much more chances to utilise support bonuses in gameplay.

Complete freedom to use whatever units you want (No forced deployment, enough deployment slots to fit either everyone or almost everyone in each chapter).

Multiple angles to view story events from.

All promoted stat caps are now 30 in each stat, allowing all units to reach their highest potential without being held back by caps.
Meet some of the characters:
Hendrix:


Lord and main character of the first story, as well as the oldest of the Fierrh family. Was appointed as the highest ranking general of the Ganarian army. Troubled and haunted by the ghosts of those who he was forced to kill, he turns against his king in The Fierrh Revolution, swearing to fight and do anything he can for the people.
"The people of Ganaria will suffer in poverty no longer! People of Gurang village, will you stand beside me in this revolution!?"
Feon:



2nd youngest of the Fierrh family, and the most intelligent of the bunch. Serves as Hendrix's brother, tactician and adviser throughout part 1. He is sarcastic and quite the joker, yet still caring deep down.
"Hendrix, I know we said we'd help you, but we didn't say we'd help you commit suicide."
Noel:



Youngest out of the Fierrh family and a gifted mage with extreme potential. She is talkative and bubbly when around her family, yet filled with sorrow when she is separate from them. Looks to do anything she can to help others.
"Alright! Then i'll do my best to help!"
Lamorak:


The King of Ganaria. Ruthless and focused purely on war and conquest, with little regard for the people of his own country. He is despised by the people of Ganaria, and looked upon with hate and scorn.
"I seek to end all conflict, by ending all opposition."
Maximus:


The King of Adraxia. A caring man, willing to meddle in other country's affairs where he has no business in order to see the continent of Azall to a brighter future.
"If King Lamorak is removed from the throne, that is a benefit to not just Ganaria, but the entire continent, yes?"
Amaru:


The heir to the Adraxian throne, and King Maximus' sister, as well as a close friend to the Norvian queen. Similar to Hendrix, she is willing to do anything she can for the benefit of the people, as well as to avenge the innocents claimed by war.
"To think such brutality is possible. We must put King Lamorak in his place."
Kaida:



The Daughter of the Divine Dragon King Larkeicus, and princess of the Dragon Kingdom of Dragalia. After observing humans for centuries, she chose to run away from her home and abandon her dragon heritage, choosing to be human instead. Keeping her identity a secret from everyone except her closest friends, she wishes for nothing more than companionship.
"Companions… friends… Strong bonds are hard for us to come by."
Percy:


A young boy from Ganium village in Adraxia, and best friends with Alex. He is a protagonist in the second story of the game, and trained for battle since a young age.
"In reality, he's just another general for us to take down. Sure he's stronger than the last, but he's still nothing special."
Alex:



A young boy from Ganium village in Adraxia, and best friends with Percy. He is a protagonist during the second story of the game. He is selfless, and follows Percy's footsteps in training for war, despite being more versed in academic skills than battle.
"…That is a really complacent way to view things."
You can download the romhack here!
Known bugs:
If playing on Casual Mode and a unit with Supports dies and comes back next chapter, they lose their supports and other people's supports with them.
In chapter 9, sometimes one of the reinforcements will appear on the Gate, rather than a usual spot.
In chapter 16, visible enemies will not appear until you click on a unit. HP bars and warnings also seems to be glitchy in this chapter.