Me: Opens FEU
2333 notifications
Me: What the…
I woke to up about 75 notifs, and I thought THAT was a lot!
I had a modest three. I thought that I had done something very good or something very very wrong.
Guessing from now on, this is our own method of discussion for the Asset Repository. I got say, the Mods are devoted to take the time to transfer all of the posts from what we've been using to. Seems that I have to get used to this one as well. As the old saying goes "Improvise, adapt, overcome."
I love this animation, the way the mage pulls up their hat on their crit animation is adorable and it gives the animation a personality, also WOAH those cape flaps are smooth.
BTW @Klokinator I just noticed this never made it into the repo.
4 here, lmao, nothing compared to 2333.
Why thank you! I actually did put a lot of time and effort into making that animation! It's the appreciation that matters to me as a spriter. I'm always willing to make animations for anybody.
Some of these mugs are in terrbile quality, any chance of getting them in better resolution?
You'll get higher quality mugs when you fix this DAMN DOOR!
But seriously, I have no idea what you mean. They looked fine to me when I put them in the repo.
Look at the ones labaled "Flora" and "FloraYoung" for example.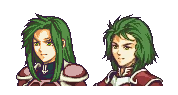 Some look as if they were upscaled and downscaled again.
I guess some of them are JPEG'd. I don't have the time to rename files consistently, let alone inspect them for jpeg'ing or other such issues. They can be fixed by the end user, or they can be ignored, used as a base for further edits, and so on.
I just wanted to signal that it's the case. Maybe you can somehow get in touch with the author and ask them if they have unprocessed versions, if not, well, it is what it is.
Regarding this animation: Does only the male have this issue? Or will you repeat the fix for the female, too?
I actually didn't realize there was a female animation until you brought it up, but it has the same issue. I'll go ahead and add the female fix to my original post.
Also, for some reason trying to import the .bin in the female's staff folder imports the male's animation.
That… is strange. Very strange. It's a fairly old animation so I'm not sure when that issue was introduced. Do the non-bin files work properly?
Yes, you can import it with the text file, but not the bin.
The difference between the male and female is kind of slight to begin with, and I had to do a double take when it happened, but it's definitely importing the male's frames.