This discovery is a coincidence on digging the boot routine of FE8U.
If you press button SELECT + RIGHT + L on starting the game, then Anna will ask you whether to destory your treasures like this: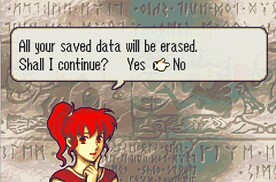 Since this routine is located at the very begining of game-control proc, it is recommended you keep these three button pressed then reboot the game, otherwase you may miss the judgement.
Function GameControl_HandleSelectRightL(0x8009A00 in FE8U) handled this judgement, and this is the first function called by the main game control proc (gProc_GameControl, 0x859A6D4), and the label 0x12 will handle for erasing save data.