This would be intended for buildfile users.
So on the FEU discord (#dev_lounge IIRC) there was some talk regarding optimizing how AA produces framedata, and I was thinking, what about a program, AA2, that takes:
A battle animation script.
Frames, the images that are referred to in the script.
A ROM offset, O_i.
and produces:
An EA file with a generated anim struct. Also incbinning…
.dmps for sectiondata, framedata, palettedata, rtlOAMdata, ltrOAMdata and sheets. In my own experience, incbinning hex files is faster than inserting them byte-by-byte via EA.
Another ROM offset, O_o.
The idea then is that the first generated sheet, sheet_0 will be inserted at offset offset(sheet_0) = O_i - size(sheet_0). Next, sheet_1 would be inserted at offset offset(sheet_0) - size(sheet_1), etc. Instead of using a label for a sheet, AA2 would actually know its offset. Framedata can now (and will) be compressed.
Then AA2 incbins the other stuff like rtlOAMdata, ltrOAMdata, palettedata, framedata and sectiondata in a similar fashion. Finally, it produces an offset, O_o, which the EA file will ORG to (after the anim struct) and where everything will be written to in your ROM, if you include the EA file in your buildfile. You can then re-use O_o as input to AA2 for the next animation you'd like to add.
I'd think it makes sense for the first O_i to be 0x1FF FFFF (or 0x200 0000 depending on how we should handle this edge case (gimme suggestions pls)). This way, animations will be at the end of ROM. You can then compare CurrentOffset to O_o for the last animation in an EA MESSAGE. if CurrentOffset > O_o, you've written over animation graphics and you can throw an error. Alternatively you can PROTECT O_o 0x200 0000 or PROTECT O_o O_o+4.
So here's what the first animation would look like in your ROM if you build its EA file into a ROM: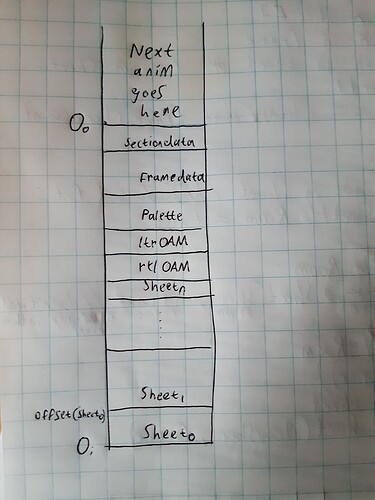 the EA file AA2 produces would then look something like this:
#ifndef ClassAnimTable
  #define ClassAnimTable (0xc00008-0x20)
#endif
#ifndef AnimTableEntry
  #define AnimTableEntry(index) "ORG ClassAnimTable + ((index) * 0x20)"
#endif

PUSH
AnimTableEntry(0x0)   // CHANGE THIS TO THE SLOT YOU WISH TO CONSUME.
String("CoolAnim")    // Or leave name empty, boo.
WORD 0
POIN Anim_<animname>_sectiondata
POIN Anim_<animname>_framedata
POIN Anim_<animname>_rtl Anim_<animname>_ltr
POIN Anim_<animname>_pal

ORG <O_o>

Anim_<animname>_sectiondata:
#incbin "Anim_<animname>_sectiondata.dmp"

Anim_<animname>_framedata:
#incbin "Anim_<animname>_framedata.dmp"

Anim_<animname>_pal:
#incbin "Anim_<animname>_pal.dmp"

Anim_<animname>_ltr:
#incbin "Anim_<animname>_ltr.dmp"

Anim_<animname>_rtl:
#incbin "Anim_<animname>_rtl.dmp"

// SHEETS
#incbin "Anim_<animname>_Sheetn"
.
.
.
#incbin "Anim_<animname>_Sheet1"
#incbin "Anim_<animname>_Sheet0"

POP

Incidentally, I've recently made something that already takes a script and frames to produce an EA installer. It shouldn't be too much work to make a separate version that can be used in the way I described above.
I'm looking for feedback and suggestions. I'd like to hear what I can improve about this concept before I start working on this. I'd also like to know if anybody would be interested in using it, otherwise it'll possibly get weird idiosyncrasies that suit my specific needs.