Blade and Claw is a complete tactical RPG featuring the pair up mechanic. It boasts 23 chapters and around twenty hours of playtime.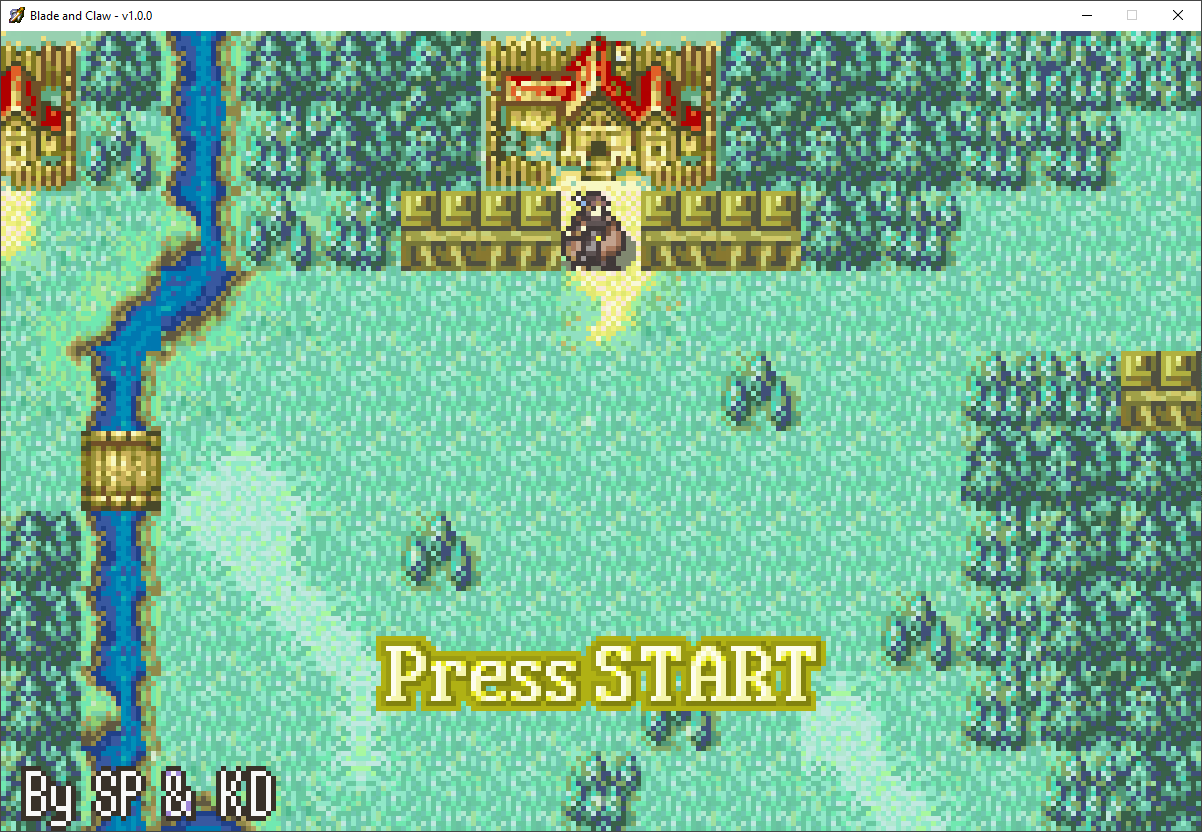 A short trailer can be found below:
This is the first strategy RPG in six years to utilize pair up. Similar to its inspiration of Fire Emblem: Fates, units can pair together or fight adjacently to provide defensive bulk or offensive power respectively. Both the player and enemy can utilize this mechanic, with crafty enemy generals constructing dangerous formations with pair up.
This game is quite difficult. Hard mode is the intended experience, while Normal mode is present for any players wishing to enjoy the game at a more relaxed pace.
The game can be downloaded here.
The drive contains a zip file. Download the zip file, extract it, and open the .exe file inside to play.
This game was created by myself and SP. A full list of credits can be found in the game's files or the ending slides. Please inform me if I have miscredited or accidentally left uncredited anyone whose assets were used in this game.
Gameplay

Pair Up

Attack Stance and Guard Stance return as staple mechanics of Blade and Claw.

While in Guard Stance, the lead unit is given stat buffs and, in rare cases, additional skills by the supporting unit. Each attack by or against a unit in Guard Stance builds the Guard Gauge. When the Guard Gauge reaches maximum any damage from the next attack will be blocked by the supporting unit.

When a unit is not in Guard Stance they are eligible for Attack Stance. While adjacent to an allied unit, the adjacent ally will perform a follow up attack at half damage. However, this attack will not occur if the target is in Guard Stance.

Stat Overhaul

Gone are the days of useless skill and luck level ups. Unit stats have been reduced to strength, magic, dexterity, speed, defense, and movement. Most stats now serve a dual purpose, making any stat increase exciting.

Strength works against the weight of the weapon, becoming an important factor in mages' ability to double attack. Magic works as resistance, making your bulky physical units happy to have extra magical prowess. Dexterity increases each of your growths by 1% per point, leading to a potential cascade of power.

Oh, and did I mention that there are movement level ups? Because there are.

Varied Objectives

Defense maps, escape maps, and escort maps are prominent throughout the game, as well as interesting complications that keep common map objectives fresh and engaging. Enemies will often interact with their environment in unique ways, forcing you to improvise new tactics for every situation.

Bonus Experience

Bonus experience is awarded as a reward for clearing maps quickly, with the details communicated in a lore-friendly way before each chapter. Every level up using bonus experience is guaranteed to increase three stats, allowing you to exert control over your character's growths.

The Bestowed

Special shapeshifter units, the Bestowed shapeshift in combat into their animal form. Powerful allies and dangerous enemies, Bestowed use their natural claws and fangs instead of traditional iron weapons or magic tomes.

Limited Skills

Character skills are scaled down to reduce cognitive overload while still creating interesting distinctions between characters. Class skills are gone in favor of personal skills, with each character beginning with at most one skill.

Rare skill books allow you to pass powerful abilities like Renewal or Paragon to your favorite characters, while passive skill scrolls give you the power to augment your growths and avoid enemy critical attacks.
Story and Characters

A Focus on Characters

A plethora of base conversations allows characters to develop with the main plot, rather than disconnected from it. Characters grow through their interactions with the party, rather than by speaking to one person three times.

A Light-hearted Journey

This isn't some Shakespearean tragedy that will make you weep while reconsidering the meaning of life. But it won't pretend to be that either, so hopefully you'll have some fun.
Screenshots









Lex Talionis

Lex Talionis is an engine created by rainlash and developed by them, mag, and myself. It is open-sourced and easy to learn. If you're interested in making your own Fire Emblem game, you can check out the Lex Talionis discord here.