Surprise! The annual popularity poll is early this year.
With Choose Your Legends moved forward by two weeks, most likely in order to avoid Engage sweeping the polls, this is a good opportunity to push for your favourites.
Who do I endorse?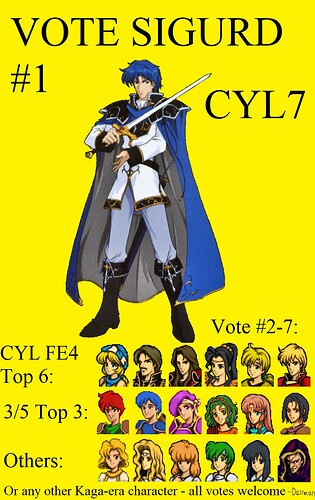 Vote Sigurd Number 1.
His son got in last year, now to get the man himself in.
Of course, cast your votes for your favourite characters, and try to make 2023 the year they finally get into Heroes. After Sigurd, I intend on voting for Kaga-era absentees, several of which I have included on my propaganda poster.
Archive
Round 1: https://events.fire-emblem-heroes.com/vote
Round 2: 『ファイアーエムブレム ヒーローズ』第2回 英雄総選挙 結果発表
Round 3: https://vote3.campaigns.fire-emblem-heroes.com/
Round 4: https://vote4.campaigns.fire-emblem-heroes.com/
Round 5: https://vote5.campaigns.fire-emblem-heroes.com/
Round 6: https://vote6.campaigns.fire-emblem-heroes.com/
Winners
Round 1 - Let's Play Smash: Ike, Lyn, Roy, Lucina
Round 2 - Enter the OCs: Hector, Celica, Ephraim, Veronica
Round 3 - Marth Denied Again: Alm, Micaiah, Eliwood, Camilla
Round 4 - Brave Houses: Dimitri, Edelgard, Claude, Lysithea
Round 5 - Gatekeeper Power: Gatekeeper, Marianne, Marth, Eirika
Round 6 - Champion Chiki: Chrom, Chiki (FE13), Celice, Byleth (F)
Let the record state that my prediction for this year is:
Men: Robin, Sigurd
Women: Corrin, Bernadetta
Good luck, everyone!