I can never look at Jaffar the same way again.
The hoodless Jaffar looks very good!

May I present: UNIno - Nino cosplaying as the korean vocaloid UNI.
did I make this whle thing based on a stupid pun I thought up? yes
Reference Image
I was going to do JaffARSLOID too but I wasn't sure how to make it work so
Oww, that's cute. K-Pop Nino.


Our villains are here! Joker and the Harley Quinn!
Google Drive:
https://drive.google.com/drive/folders/19PmVAF0KBuntJ1B_Uwu5pnwOx9mDCYyi?usp=sharing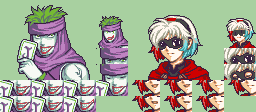 Edit: Made Jokfar fit the hack box
HAHAHAHAHA
HHAAAAHAHA
Oh my god, that is so good. You win. You just win. I know you based those off the Mug Medley mugs, but they're still just godly! Those are absolutely top tier and I love them.
Still got ten days before the contest ends. Anyone planning to tackle Sonya?
I don't know if I'll do a Sonya. But I did something a year ago that has her hair colour sort of.
It was made for an PME where Nino replaced Lute, so I swapped hair and clothes/eye-colours and creatively called her: Lino. Now I only need a Jaffar with Blue Hair, that's called Mich and this pun becomes so bad that everyone who reads it will prefer playing Fates again while reading all the dialogues.
It shall become F2U.


Okay wait, how should i post what I made?
Pretend I'm new(bc I am) and don't know what I'm doing(bc I don't)
First Halfbody I ever made, with some touch up help from the great Stich from discord.


This is the Portrait version

Yup
This was kinda tough to keep under 16 colors, but I managed to do it
Cute!
Gorgeous!
CURSED! SO VERY CURSED!
Love that Sonya tho, Wasdye.
Now all I can picture is the buff body here combined with wasdye's unhooded portrait and all I see is a shonen protagonist
I'm doing a splice for the EDGE thing, and i'm making the character there shirtless too, it's my specialty haha
That's a specialty I can definitely appreciate
I spliced it together just for the sake of curiosity



Kinda reminds me of Natsu from Fairy Tail

So, basically…


This is cursed.