I should have done this a long time ago, but I mustered up the courage to put up my mugs and sprites. Yes, I'm putting on my big boy pants to prove to absolutely no one. Anyways, if you don't know me, I'm Blade.
Ever since January 2017, I've been making mugs because I want to get good and for my own personal enjoyment. Being a lurker for god knows how long, I got myself involved in the spriting scene.
When I started, I totally had no idea how anything worked. With a lot of help on my work and constant revisions from super duper cool awesome spriting gal pals of mine, I seriously appreciate them for giving me feedback. I would have never improved as much as I did without them
For easy reference, here's a gallery of my stuff so far. If you plan to use any of these mugs, please credit me or ask me for permission. Stealing is bad.
11/21/21 EDIT: Now with Mordeus and Friends!
I also got myself into battle sprites so as a first serious battle sprite I made FFT Summoners both genders. I don't usually make battle sprites so I'm no expert.

During one of my frequent breaks in between making mugs, I did make some skill icons just for fun. The majority of them are from Fates or Heroes.
These skill icons are free to use.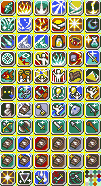 Bottom Row Skills are new! The last four skills: Reverse Delta, Bopeep, Bloody Mary, and Acupuncture are also now available in my F2U skill icon collection.
When I was making an OC, I realized there's like no characters with dark/tanned skin at all. Let alone custom sprites with darker skin. Therefore, my initiative is to make more dark skin tones for people to use because pasty white anime people are kind of boring to look at.
All of these FE8 skin tones are free to use/edit; I do not claim ownership of them. Body is provided by AK.