Hello! I'm back for another update on my thread and summer vacation allows me to have a lot of free time to whatever and mess around. Today's update is a remake of one of my older portraits who also wears a hat! Unsurprisingly, this lady is also from SaGa Frontier 2 and her name is Labelle, an archer looking for her brother.

Labelle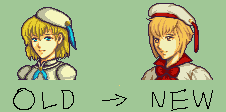 Before & After
I do not know any of these SaGa Frontier 2 characters at all. I just love the game to pieces and make fanart of my favorite characters. UNLESS THIS SPRITE IS PERMITTED AS FREE TO USE BY A BLITZ OR WHATNOT, YOU MUST CREDIT ME IF YOU WANT TO USE MY WORK IN ANY OF YOUR WORKS.
A special mention goes to the people who helped me and edited my work when I asked for help. I very much appreciate it! :>
When I was remaking her, I started off strong with what I was comfortable with. Splicing the head, jawline, and eyes weren't as big of an issue in comparison to creating the hair, hat, and body from scratch. Sometimes, making something out of your own mind is more difficult than it appears to be and I had to take a lot more breaks than usual to complete the portrait. It is stressful for me because I want to make her pretty but I also want to get it over with so I can start fresh on new projects.
Usually, I struggle with certain parts of portraits like hair. During those low points while making her by hand, I break down with fickle emotions such as jealousy, anxiety, disappointment, anger, etc. Often I feel inferior to others because of my non-existent background. Art is frustrating but I can't stay frustrated and jealous forever so I have to keep moving forward when I want to be great pixel artist.
If my art sucks then I'm fine with it. I knew that I put a lot of time and effort into it and I believe it paid off.