A Berwick Saga randomizer is finally here!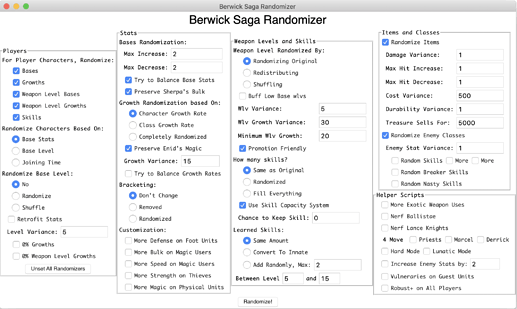 How to use this randomizer:
Obtain a Berwick Saga rom. (You know the rules.)

Patch the rom with Aethin & Lightgazer's translation patch if you are using a translation. Hugh shout out by the way. DO THIS BEFORE EDITING ANYTHING.

Open the randomizer, configure and click the Randomize! button. I know half of these don't make any sense but the randomizer does generate text output so please experiment. The default settings are pretty conservative so feel free to crank up the numbers. If you just want the QoL patches or 0% growth, click the Unset all Randomizers button.

The output will be something like this, in fact, the randomizer doesn't operate on your rom. You need to copy the script into the Editor to edit your rom. Should be pretty straightforward. You can redistribute or edit the script if you wish.

Enjoy your freshed randomized Berwick Saga experience!
Or you can skip all that and play my Berwick Saga Rebalance, should be pretty fun.
Project Source:

Please report any bugs you have encountered.
Screenshots:
Change Log

Added some requested features.
Fixed bugs related to item randomization.
Future goals (or what this thing can't do right now):

Randomize joining items
Edit bag items
Edit character classes
Edit bosses
Edit supports
Edit prices for horses and furniture
Edit mercenary fees