Hello everyone who clicked on this post!
I'm new here and currently working together with Retrogamer on a Hack which is still in early development. I don't want to reveal to much about it before it's in state that I think is worth showing of. However it will feature some familiar faces like Melia and Riki from Xenoblade Chronicles. Speaking of Melia - She allowed me to use her potrait of Riki for our hack. Since it looked so good, I wanted to use it for the said hack. I edited it so it is possible to use his face ingame without cutting anything off. We also made his map and mouth animations. So he would be ready to be added in but we have difficulties with a battle animation. It is the only thing missing and arguable the most important thing about a new class. If you wonder why, he isn't a human character so a normal animation would be out of question.


http://vignette3.wikia.nocookie.net/xenoblade/images/0/03/Riki_with_weapon.png/revision/latest?cb=20111007100946
Our plan is to give him access to axes. (No pun intended.) This is the weapon type that comes close enough to the weapons he's using in his original game. So we need at least that and an animation for him throwing axes. We would also be happy if it would be a sprite of him that can be animated later by us.
In the end I want to show some screenshots related to Melia and Riki and how they're currently looking ingame. While Riki is going to be a tanky fighter with high HP, Melia will start as a cleric but with the ability to summon ether elements.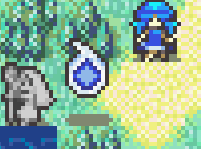 Thank you for reading this post ^^