Welcome to an idea I've had for quite awhile but I'm really curious to see if this takes off or if it's been done before in a Fire Emblem Game. So let's say a new hack had weapons that can level up and they get more stronger the more they are used, would people think this might be a fun addition.
A new bar in the EXP screen to determine the current weapons equipped BEXP


(I know it says WEXP but that's because I goofed a bit, Just think of W as B)
Naturally if the bar get's full, it levels up the weapon. You can see current weapon BEXP/LVL in the description of the item.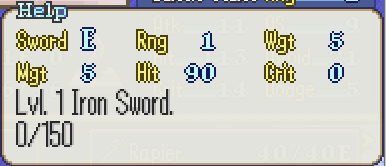 The formula for Battle EXP I thought of is as simple as
HIT = +5 BEXP
DMG = Dmg/3 = BEXP
CRT = +10 BEXP
WTA = +3 BEXP
WTD = +1 BEXP
This is for hitting once in combat, if you double then you get double the BEXP you would have received. I didn't want to make it jagens could just easily level up a weapon so that's why I made the dmg BEXP pretty low. (These numbers are filler)
Onto how level ups would work for this. Level ups would simply add a predetermined bonus to the weapon with the Iron Sword (Let's say) +1MT +3CRT for a LVL.2 Iron Sword, and a lvl 2 - 3 gives -1 WT +5 Max Uses etc. with a max level of 3 - 5.
Any thought on this? Please let me know. I was wanting to make a hack with this, but I don't think it's possible on GBA / Tactile.