Hey folks,
New here and new to rom hacking. Thanks to those of you who have posted resources for those like me who are just getting starting. A quick question about a portrait issue I'm running into:
For a personal project of mine, I pallete swapped and changed the eye color of Cath from FE6 (thanks to those who added the blinking frames for FE6 characters by the way!). Here is the portrait:

However, when I insert, it appears that whenever the character smiles, this happens: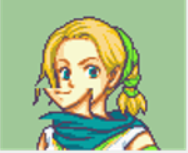 I have looked at the image in Usenti and compared it with working portraits, and can't find an issue. The portrait seems to align with the standards in all of the tutorials/other problem fixes I've been able to see, although admittedly, my spatial awareness is generally bad. Can any better trained eyes spot the issue that I can't? Any help is appreciated!