I'd like to share the game I've worked on this past year or so, tentatively named Lotus and Lyric. It's made in RPGMaker and takes a lot of cues from Blazing Blade and Gaiden (not the most popular games around here, I know haha).
30 minutes long, has 3 short maps. I'm a programmer more than I am a writer or designer, so this is not a very ambicious project, more of a test drive than anything.
It's the first strategy game i've made so far, and I have learned a lot from posts from here and analysis videos like nadnap and mangs, but it's still scary yknow?
I don't want to make it super hard, much the contrary, but having the game only played by myself is bound to have a lot of mistakes.
I'd like to hear some feedback on how to improve map design, as they still feel a bit braindead, but I don't know what to expand on.
Outside of that, any feedback is welcome!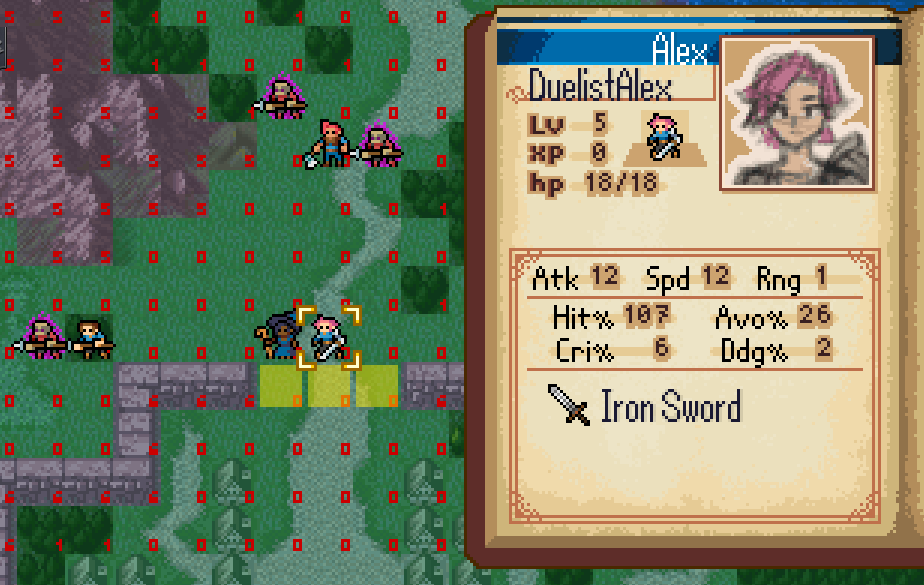 Download Instructions

Link: https://nate-the-bard.itch.io/lotus-and-lyric-0
Password: faiaemburem
The page is not open to public as I'm iffy on using fire emblem tiles instead of my own.
Controls Summary

Z is confirm, X is return
Shift speeds up text and opens the unit Stats window
---
I know games in other engines are less popular here, but as this basically started as a romhack (and i was too dumb to use FEBuilder), I'm looking for feedback from people who've been doing this kind of game for a while.
My next steps are probably to iterate on maps either in SRPG Studio or FEBuilder. I don't have any passion projects per se, so they may come out in a slower pace.