Hello! I'm usually a lurker, but not today!
So, I made this elaborate self-imposed Pokemon challenge themed around Fire Emblem, and have been playing it for about half a year. If it were a rom hack, it would look like dis: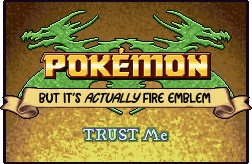 Almost but not quite as funny as I, Elf Member, I know. My challenge is really elaborate, like, 18 pages of RPG mechanics elaborate. I spent a lot of time meticulously writing it, and I'm hoping people will notice it and get as much enjoyment out of it as I do, once I post it around. I wanted to post it here since I thought it'd be relevant to the community, but I'm not sure how to categorize it, since it's sort of a Project, but it isn't a rom hack. If someone could help me with that, it'd be much appreciated.
I've also been interested in making an FE rom hack for a while now, though in my last attempt, the coding wizardry of the FE8 skill system pack was a bit beyond me. I could see myself giving it a second try sometime, or maybe just posting some pixel art resources.
Anyway, happy to be here, amongst the wizards.