WARNING: UGLY MUGS AHEAD
You have been warned. Seriously though, they still need a lot of work, so any help or advice would be plenty appreciated
just don't be mean or I'll cry
So a couple of months ago, I decided that I wanted to make some portraits, because I wanted to make my own fire emblem fan game, and I jumped right in. The thing is, everywhere said to start by splicing, and I didn't want to because when I do art things digitally, I usually use my iPad, and I have no idea how one would properly splice in iPad's Procreate. So I decided to just freehand and see where it got me, lol
It got me here, at first:




Not too bad for first attempts, I would think! But they lack a certain fire emblem-y-ness, not quite emulating the style of gba fire emblems. And have other issues.
I found that it's not especially difficult per se, in some areas, because it's still pretty close to traditional drawing. It's the FACES that kill me- they're optical illusions! Especially the eyes. How do the eyes work? Especially girls' eyes. Too anime, idk
Also, for whatever reason, anatomy and shape/size is a trillion times more difficult to get right in pixel formats.
This was the first one I really liked, though (though he's FEXNA sized)


His neck is kind of a fuck though, and his beard is weird.
I started working on generics for BWDYeti's compendium of generic portraits, because while it wasn't splicing, it was drawing over top of a base, and thus helpful. Also, they don't have eyes.
Zweihander: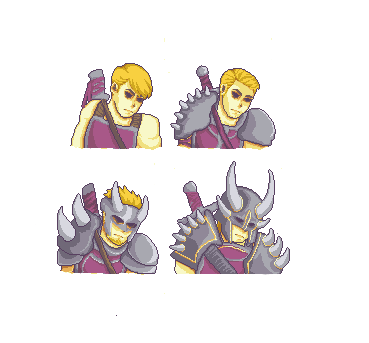 Diviner:



Then I started trying my own fire emblem OCs (and kept them formatted properly lol)
Here's a scrapped design for one of my protagonists, Morrigan:


And a generic soldier from the Rukaninan Empire whose anatomy is shit and who is way too small (I have no idea what happened there tbh):


But I finally got my main trio of characters down… and they all look wonky. Help. I don't like any of these lol I might completely redraw them from scratch again. Meet the new Morrigan, whose hair hair movement is probably too dynamic for a still frame; Orion, who was cursed with Smallness again, as well as profile view giving me TROUBLE; and Lionel, who just looks off somehow.




Altogether, though, my favorite so far is this fellow, redesigned from one of my early ones, and basically a self-insert persona thingy ngl



But I see zero especially glaring images with him.
So yeah, that's where I'm at. O spriter-senpais, please show me your ways, if you are so willing.
Also, I'm not greedy, so anybody can feel free to take, alters, edit, and use whatever- though not the last four (or the FEXNA generics, bc I think that's the rules). Even if they're bad sprites I'm sure they can be fixed up and repaletted pretty easily lol
Thanks for checking this out~