Hello Everyone! Around 9 years ago I joined the old FEU forum. My username was pretty much the same back then (it was TheZalor), but I doubt anyone remembers me. After digging through the Internet Archive I have found proof though!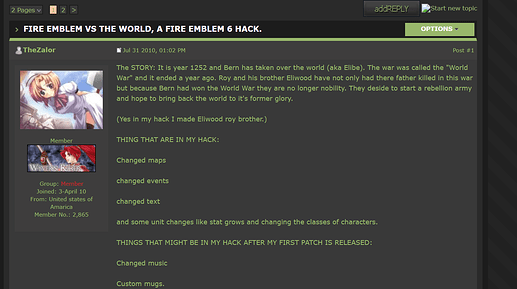 This was a ROM hacking project my 12 year old self was rather proud of back in the day. However, I think from reading the introductory paragraph alone you can see that the only possible merit it might have had was being so bad it might be entertaining.
On a more serious note. A couple months ago my fascination with Fire Emblem ROM hacking began to return, and around a month in a half ago I started seriously working on a Fire Emblem hack that is slightly modeled off of a Three Act Play structure. This way I have enough room to make something interesting and outside the box, but it isn't so ambitious to cause me to burn out. I don't yet feel comfortable announcing the project as I still have a lot to do even for the first draft, so I'm being intentionally vague for now.
Some might have noticed that over the past couple of weeks I have started some threads asking for help when I reached certain roadblocks. I figured I should formally (re)introduce myself, so people have a better idea of who I am. Also, I included that old snapshot since I thought it would be funny, please don't judge the current me too much on my silly 12 year old self with his constant misspellings (though I do hope it might have brought you a laugh).