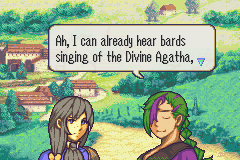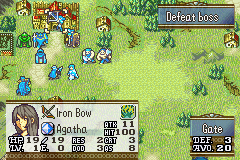 Hey! Thanks for coming here, first off, I'd start with saying that I need some playtesters and writers and if you, yes you! Want to help out you can contact me on discord at
Bwan#8245
also can someone tell me how I can update the thread without getting the big dead for necroposting?- much appreciated.
I'm not really good at balancing and enemy placement, so I'm really sorry if you find some parts of this hack tedious or boring.
Currently, only the first chapter has a starting event, and you can play as intended until chapter 3. Other chapters aren't really finished enemy placement wise, you should be able to play until chapter 6, which is unbeatable.
Characters (most of the portraits are a WIP):
Characters


Agatha Guereca: The, let's say, protag of this hack, even if it doesn't really have one.
A bow user that struggles finding motivation and often locks her in her room for days.


Nuakea: an assassin and the caring leader of the group.


Archibald: a bow and lance wielding wyvern knight, he's wise and somewhat distant.


Cyrus Blois: quiet but deadly brigand who joined together with Winsor.


Winsor Schaefer: a fun-loving, big bro pirate, enjoys hanging out with Cyrus.


Warwick Von Edgar: proud noble and tactician of the group.


Piper Tranquijia: an ex thief that was rescued by the group.


Hawke Dyer: prideful monk of Mizea in service of a noble.
Features planned for full release

7 chapters full of houses to visit and enemies to slay;

support for hard mode;

an escape map, a fog o' war map and something more complicated for the last chapter;

animations, bgms and status menu from the fe repository (all credited in the credit.txt file);

custom palettes and hand made portraits for every major character;

different portraits to display characters' emotions. (probably to be added after full release)

a light hearted and simple story;

a small cast of characters (10, one joining on the last chapter);

ample characterization with talk convos each chapter;

no supports;

no 1-2 range shortbow;

no convoy;

limited items/gold;

playable magic users can wield at least 2 types of magic;

4 big maps (woah);

Skill System;

hand drawn cgs (very unlikely, probably will be implemented after completion);
.
.
.
Here's the download link for both credits and patch:
https://drive.google.com/open?id=1UD0VbV3vM3BSa7dqVo6_J2c_ulEShap6
Thank you for reading!