Hello! This portraits are free to use?
:?
gonna go with a no big homie
So your not working on a rom hack or fangame your not busy?
Levin works on a lot of romhack teams, and I'm pretty sure he's usually pretty busy.
busy is like my middle name
oh right yes another sprite dump bcs why not


genderbent Est Azelle and female Jerrot archetype(?) for the lovely Vision Quest hacc! almost finished pls play
AND YES I FINALLY MAKE THRACIA STYLE MUG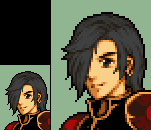 Khris getting isekai'd to Thracia and kicks the Loptyr cult epic style
announcement:
if you guys want to use my mugs, pls contact me first in DMs or on Discord ig
I love what you did with Sarka, she looks fantastic!
monthly update
blease

Liam from The Nameless Heroes! armor was tricky to make but thank you mr. @BuskHusker for making his sister's mug, she's a great help fo' sure



soooo I was also retouching these three and bam
here's your Jagen Thief, anime protag kinda man, and "had-enough-studying-the-blade" mage from Vision Quest! pls play VQ now Esfir is hotter than ever
i betcha more people will fawn over Esfir, excluding myself ofc
i wont stoop down that low
Hey it's my old splice dude in the middle!
Woah, these all look great, but new Zuljalal and Esfir are my favourites.
They look awe-mazing. Great work as always Levin!
it's not a monthly update anymore ;-;
I BROKE MY PROMISE
so yeah there are lots of updoots so bear with me




finally finished Arya for Snekky and Noguchi because I'm a busy man and also retouched Christina, original by Zanryu and Star! check the hack here -> Legends of Avenir




touchups of Bosco, Zuzana, and Batari!
(credits to Nickt, Capibarainspace, and Laurent_Lacroix for the originals respectively)
and new mug for the exclusive staff mage!
also gonna be touching up more mugs for Vision Quest so stay tuned for more!


I helped @KrashBoomBang on the portrait department and here you go! check his hack here -> The Four Kings
AND FINALLY ANIMATIONS! AAAAAAAAAAAAAAAAAAAAAAAAAAAAAAA
exclusive animation for Waluyo from Vision Quest!
Stay updated for the handaxe!
i'm back from the dead ig



new members for Elibean Nights!



was working for @Devisian_Nights's thingy!



and finally Evan from TNH! A cruel and ruthless Etrurian officer.
all of these are not F2U and F2E, so if I find you guys stealin' imma yeet you
edit: welp i rarely update this thread ;-;
Elibean Nights comeback comfirm???
Looking good as usual! Thanks for sharing those
another updoot
buff lady from VQ! she's a nice bow user after promotion btw


credit to Der for this mug from Mugging Blitz!
AND


IT'S FERDINAND VON AEGIR!!!
Also news!
I'm putting some of my mugs to be F2U or F2E on the first post! Please follow the instruction above too if you want to use them!
it's… been a while

We have Ferris from The Nameless Heroes! big thanks for Atey and Kabby for providing with good references for him (previous versions of Ferris)


aaaannnd I made this for @Pandan! she's like a fusion between Ayra and Aideen lol
I'd really want to make lots of sprites, but things are crashing on me a lot so it's been so hard for me to make a new sprite as time goes on.
Maybe I'll start getting active on spriting before Christmas, idk. Life's been harsh lately. Hope you guys are doing well.
If he's a Nameless Hero why does he have a name?
hmMmMmM
He's an archer, not a hero, tho
First time doing this style, so here's FE12 Marth
does he wear pants here? idk maybe


Idk Levin maybe you should do a NES sprite of his lower body to find out