FIRE EMBLEM: GENEALOGY OF TORDO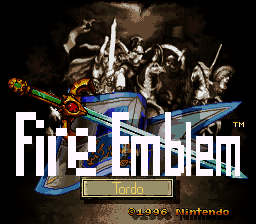 There are many "Genealogy of X" hacks for Genealogy of the Holy War. Here's a menu patch for one of them.
Plot outline

The year is 757, Gran Calendar, in the reign of King Victor of Velthomer. His son, Alvis, was waging war against Byron of Chalphy's barbarian horde, alongside his trusted advisors Reptor of Freege and Maricle of Isaac. Bishop Claude of Edda was threatened by these alliances, and so formed one of his own with Trabant of Thracia to oppose him. Lady Deirdre of Barhara held little interest in political affairs, and largely kept to herself. Cuan of Lenster was suspicious of these developments, but few paid heed to his warnings.

In spite of a non-aggression pact, Prince Dew of Verdane invaded Grandbell, with only the dancer Laylea standing guard. Isaac's fall was almost certain, and Freege was Verdane's next target. With few soldiers on hand, Lady Tiltyu, daughter of Reptor, prepared to expel the Verdanian invaders from Grandbell. What awaited Tiltyu during her journey was not anything she could believe…
This hack is playable all the way through to the end of the game. Generally, the events are not changed, so the game is basically a reskin of the vanilla game. The plot (not translated) generally follows all the same beats as the original, except the characters have all been swapped around. Sigurd has been replaced with Tiltyu, for instance. The main appeal comes in the adjusted character item and skill layouts, providing different tools to face different challenges.
DOWNLOAD:
SCREENSHOTS:
Screens