First of all, don't be expecting anything too comprehensive or impressive, but I felt I'd share a few of the little things I've slapped together for my own personal use.
Download the zip with all this stuff here!
IMPORTANT: When importing the item and affinity icons here using FEBuilderGBA, you want to "Import by reconstructing with specified value"; the third menu option when importing! The colors for the Affinity icons look very strange in the importable versions included in the zip file, but they should display with the proper colors (shown below) when drawn in-game!
What's included? Well, firstly, and most significantly, custom Affinity icons made by yours truly!
Here's a preview, upscaled, of the custom Affinity icons next to the official ones.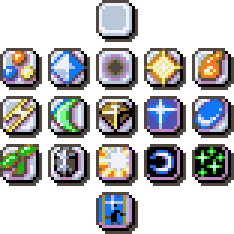 Starting from the center (just after Wind), it's Tellius' Earth, Heaven, and Water affinities, followed by Wood and Metal to complete the Wu Xing element set, and then Sol, Luna, and Astra… really just because I wanted a full 15 (one for each combination of four Affinity-boostable stats) and couldn't think of anything better. Finally, there's a special "Charm Affinity" icon that I was intending to use for a rare Affinity that would boost all six stats. All of that said, it's totally fine to just use these icons for whatever! They're mostly full-custom, save for the Sol and Charm icons, for which I just cropped the skill icons into the Affinity icon frame. The Sol icon is derived from the Sol skill icon found in the custom GBAFE skill icons set, while the Charm icon is derived from Charm's icon in Genealogy of the Holy War.
Next, some item icons! In order, GBAFE icons for Poison, Ruin, Waste, Swarm, and Stone tomes, all derived from existing designs for those tomes in other games. This seems like an arbitrary assortment because it kind of is; I just felt I'd share it anyway in case it'd be of use to anybody. I'm sure other people have already done this, but I might go ahead and make custom GBAFE-style tome icons for more spells not found in the GBAFE games sometime. Eh… Maybe. If I feel like it.


Finally, this is like, actually nothing at all, but I included it in the zip file because why not? I reordered the frames in the idle sprites for the early Mercenary map sprite set so that the animation is smoother and less jerky. I actually can't tell if it's intentional that it's how it is in the vanilla versions of the games, but it looks a bit nicer to me personally this way. Literally anybody could do this in like thirty seconds, but eh, here it is anyway.