I have my first submission for the repository! (hopefully everything's set up right!)
A new monster class, Succubus!
The class is intended to be a speedy flying class. They have above average Res, but low Def. Their Str is average, and 2 of their class weapons have nifty effects (Succubus should have a lower than average Con so the weapons weigh them down a little as balance).
vv Class Icon vv
vv Class Weapons vv



Scythe. No effects, same stats as an Iron Sword, but with Iron Lance weight.
Hell Sickle. Steals HP, Steel Sword stats with Steel Axe weight.
Libido Sickle. Brave Effect, Steel Sword stats with Steel Axe weight.
Fervor's Cut. No effects, Silver Sword stats, Silver Lance weight.
Scythe is the most common weapon they will have. Hell and Libido are heavier to balance around their effects (So Libido will usually only hit 2 times on the Brave effect for example). Late Game they will have Fervor's Cut instead of Scythe.
Scythe Monster Weapons (if kept exclusive to Succubus and her eventual T2 version) would have a bonus against Male units (assuming that's an easy to program thing).
vv Battle Animation vv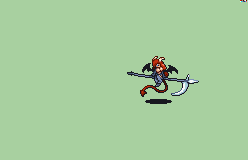 vv Some Screenshots of her in action vv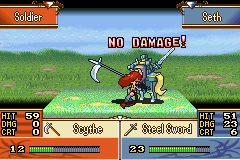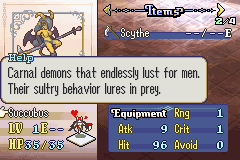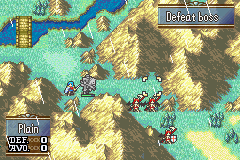 vv The Files vv
https://drive.google.com/file/d/1p4IIGoLiOsr3CsVv2VDIpym8qMC7w9Uc/view?usp=sharing
Everything should be in there and (hopefully) it's all set up the proper way to be submitted.