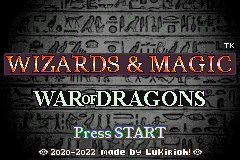 I don't know how to start
I can't believe this yet
Well, I'm so nervous to announce that
Wizards and Magic: War of Dragons is now released!!!
We have done just the prologue at the moment but the project it's planned to have more than 20 chapters.
Through my limitations and country's difficulties I have finally made this project playable at least.
I know it remains a long path to travel in the development of this project,
But when I look back at what I have made I noticed the enormous amount of stuff we have made. So I can't give up on this. After all, this is one of my precious dreams.
Thanks for supporting me and for be so patient waiting for every new little progress of WnM.
I hope you like this project.
Please if you want to comment something you can reply here or go directly to the discord server where I interact more with the people.
Discord Server
Download Link

Dropbox - WnM-WoD 0.03.Patch.2023-05-09.rar - Simplify your life
Concept

This is a FE8 rom hack made using FEBuilder but I changed most of the graphics, sounds, narrative, etc. I used FE8 as a tactical game engine to create a Yu-Gi-Oh! Tactical game with an original story based on first generation.
The name of Wizards and Magic it's based on the name that Kazuki Takahashi (RIP) gave to the card game in the manga. Magic and Wizards.
Story

The world it's habited by magic and mundane creatures, but the dragons for unknown reasons started to migrate from the Mountain of Beginnings, destroying everything in their path.
The events of this game are around this uncommon event specifically. That's why War of Dragons.
Screenshots













Change Log

Current Version : WnM-WoD 0.03
-Difficulty curve changed to a more casual public. Focused more on actual monster card stats. So if blue eyes is a monster. It attacks shouldn't surpass the maximum amount of 30 points.
-Skill System Installed since I want to implement more and unique skills in a future. There aren't at the moment.
-Some graphics and grammar changes.

I add a couple of lines on Kirim dialogue before just before the battle.
WnM-WoD 0.012 Patch
-Some Grammar Errors fixed
-Difficulty Rebalanced
-Longer charge time for custom backgrounds
-Growth Rates Nerfed
WnM-WoD 0.01 Patch
Contains just the Prologue.
every class and characters have been replaced by ygo characters and monster cards.
-Most of the Items have been replaced by ygo cards.
-Main Theme SBG have been replaced by a YGO SBG and used on this prologue.
-The visual aspect have been completely transformed into a more YGO like version.
Credits

Almost all of the graphics have been edited by myself Lukirioh, basing on YGO cards and using sometimes vanilla sprites as base.

Potatoman: My loyal servant. Without him this project wouldn't exist. Thanks for supporting me. He have searched through the net, the cards and sprites I needed to base of, cause my internet it's a bit limited and his contribution accelerated a lot the progress. And also my co-dev.
Frodo1990: The guy that teach me how to edit the midis to implement new music to the game and also who found the YGO audio files I needed to edit.
-HauntRS: The guy that teach me how to make custom maps and also the one who made two of the current maps.
Main Translators:
Cause English is not my first language I needed some translators and proofreaders to help me out.
-Keymavega The dev of Tierra Maldita
-Gol Archeon
-Frodo1990
-Haroosky
Scripts Supporters:
Cause this is my first time working on scripts I needed some help to understand how to implement some things so I want to credit those guys for sure cause without them this wouldn't be even a demo.
-7743 The creator of FEBuilder
-Vesly The dev of Pokemblem
-Random Wizard
-Leche
-Dancer A
-Shuusuke the Fool
Special Thanks

For all the FEUniverse people. This fandom is awesome. Very nice, kind and friendly. The perfect fandom for someone like me. Thanks for receiving me here.
-Solus Aeternus: For being my first fan XD you gave me all the support I needed to don't give up early on the development.
-Misaki 08 ". " She is the reason why Im continuously making fanmade stuff. Thanks for being so important part of my life.
-Awesome Guardian: Bro you deserves to be listed here cause you was one of the few that always trusted on me. You also give me the bases for this story. This game it's also dedicated to you.
-RiKonzorT: Men I remember the first time we thought about a YGO game like FE xD that was two years ago !! Thanks to you too bro.
-Multiverse Fighter : My mentor on Fangames and Romhacks development. Thanks for be there at the beginning of all of this accepting me as your baddy.
Please if I am missing someone contact to me by direct message. I don't want anybody out of the credits.
Greetings
Lukirioh