Welcome to my first topic on FEU which include my Hack which was shown on this years FEE3.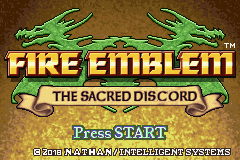 So what is The Sacred Discord?
It is an Hack which was basically a PME for a Discord server. So when I started it I wanted to make something more of it and then I started to make a Hack with custem maps, events and all that stuff. For now that is all I have to say but I will edit this post when I have the time so there will be more from me
Oh yeah before I forget! In the folder of the Patch there are the german and the english patch but the english patch isn't finished yet. I will update it any time my friend and me have the time for it. Thanks to @Robinjonator who started the english patch.
Here is the Link for the folder: https://www.mediafire.com/file/0cgz73lbldb8ilb/FE8+The+Sacred+Discord.zip
There is a problem with the rout split after chapter 8 but I showed it at the FEE3 video so you can look there but I should make a seperate video for it. You should choose Aneyas route because if you choose my route nothing will happen in the next chapter.
There also text files in the folder.
That is all for now but I am not finished with the post but I have some time pressure for now.
I will make a table so that you can see the skills for the classes if you like.