Sorry about the name, I'm not good at em(well besides people names that is).
Anyways this is just a small thing I'm doing. In preparation , for my future bigger FE8 hack I planned out(more info on that when I get more work done on it) , I am doing a small(6 maybe 8 chapters), solo blitz, meaning by myself. The goal is simple finish all chapters(or rather have em in a functional/playable state) , by this time next month. I feel thats reasonable, as long as I don't try and do anything too insane. The main purpose of this is to ready myself for making my other hack(I"LL be moving this summer and won't have internet most likely and would like to have at least a semi functional prototype by then.), which i feel I'm not ready for yet.
This will also be for FE8, it may have a very bare bones story, if i feel like adding one. Otherwise it will have stuff you usaually see in hacks these days(skills, classes etc etc), but will probably use regular or recolored portaits, since I havn't learned that yet. And doubt it will be learnable in a month along with everything else.
It will receive bug and balance fixes, and will be put up for download(meaning the patch) for others once at least chapter 2 is done. These are being made as I go, and may just have very loose connections to each other.
I don't have access to the 1 pc in my home right now, so I'll upload images tommorow. But I do have relative progress and a to do list.
Progress:
Chapter 1(45% Complete, needs refining, like changing some enemy ai and stats,as well as terrain(still learning how to make decent mountains) and dialogue insertion for certain events, but the general layout/concept is done as well as player units are stated)
Chapters 2-6(Not started yet)
Chapters 7-8(undecided if they will even be done)
To do:
-finish eventing chapter 1 and begin other chapters
-insert animations for new classes
-Figure out why chapter 1 refuses to allow tile changes
-Intial balance testing.
-Change chapter 1 reinforcements to not be ambush spawns.
I realize this is not some grand project, sorry if you were expecting more. I just feel like I'd like criticism on my work, so I know what to improve before I start my bigger hack.
So since I don't have any kind of image capture software on here, and probably cant get away with putting one on here without my family finding out, like I can with everything else. I decided to screenshot the map in VBA to the best of my ability. So sorry, also I tried to export the map, so that people could take an easier look at it. But I dunno if I'm doing it wrong or its FEBuilder, it seems to not want to export(it exported as I was typing this, but can't figure out an easy way to view it atm. So anyways here are some images, I'll be going into more detail on these and a few others in a new reply, because I don't want to clog this up too much: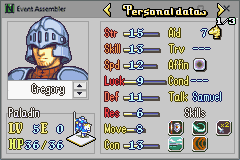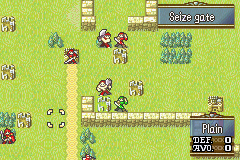 Only two for the main post for now, because theirs not really anything else I feel like needs to be shown in the opening.