Hello, I am bpat and I present to you the first six chapters of my FE8 hack Legacy of Sorrow. You can download it here. The latest patch is LegacyOfSorrow_10-13-23.ups. I also created a discord server for anyone interested in chatting about this game.
I am always open to feedback and I'd love to hear your thoughts on this game, so don't hesitate to let me know what you think either here on FEU or on discord.
Plot

Two years ago, the King of Melerra was deposed by several powerful nobles backed by the Empire of Galt, and the Kingdom was ceded to the Empire as a vassal state. Prince Edgar, the sole survivor or Melerra's royal family, gathers allies in hopes of liberating his nation. His actions will determine the fate of not just Melerra, but the entire continent…
Game information and features

Legacy of Sorrow is a simple game mechanically but still a complex game strategically. Playable units will have very limited access to skills, with most of them being present in vanilla GBA FE games. Many weapons are different from what you are used to in other Fire Emblem games and hacks, so make sure to examine the stats of each of them.

There is one unique mechanic to this game, which is the rune system, inspired by quietus from Triangle Strategy. Beginning in chapter 2, you will gain access to runes, which temporarily empower your units in various ways. Most runes can only be invoked once per chapter, and the total number of times you can invoke a rune per chapter is limited, but they refresh at the end of each chapter so don't hesitate to use them when they may be helpful.

This game is intended to be fairly challenging, though only early maps have been released thus far so it hopefully isn't too hard currently. Expect your units to sometimes get doubled and occasionally risk being defeated in a single round of combat by powerful enemies. However, you will still have plenty of tools to handle the challenges the game presents you.

This game is not meant to be ironmanned, but you can certainly try if you are up for the challenge. Currently, the dialogue assumes characters are alive and recruited, so if you lose a unit you may see their ghost appear in dialogue

Every unit is intended to be useful. While some may be better than others, none will be dead weight and none will be completely dominant.

I have also made a few mechanical changes:

Units can trade multiple times per turn (Thracia trade).
Preparation shop sells most E-D rank weapons, including steel and 1-2 range weapons.
Weight gives a flat penalty to speed regardless of the wielder's constitution.
Hit and avoid formulas have been changed to 2.5*skill + 0.5*luck and speed + 2*luck respectively.
Status staves such as the freeze staff will never miss.
Magic weapons will count as both their weapon and magic type for triangle effects.
Stat boosters are less potent.
Cavaliers can no longer use swords and knights and wyvern riders use axes instead of lances.
Units send their inventory to the convoy upon death.
Difficulty options

Two difficulties are planned: easy and normal. Normal difficulty is intended to fairly challenging and it is the intended difficulty for most players. If you are struggling with normal or would prefer a more laid-back experience, easy mode should be a better fit for you.

Normally, there will a separate patch for easy and normal mode. If you would like to switch difficulties between chapters, your save for one difficulty will be compatible with the other. However, at this moment, the easy mode patch is still a work in progress. I hope to have it ready in the near future. If you are interested in testing easy mode, please let me know, as it could use some testing to refine.

On easy mode enemies are less numerous and sometimes have weaker weapons compared to normal mode. Additionally, several timed side objectives will have more lenient timers. However, enemy stats do not differ between difficulty modes, so easy mode will be far from trivial. Expect normal mode to be close to what you would expect from a hard mode, and easy mode to be similar to what you would expect from a normal mode in terms of difficulty.
Screenshots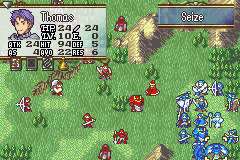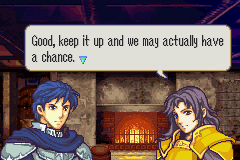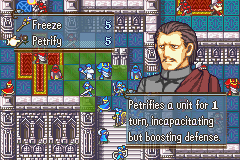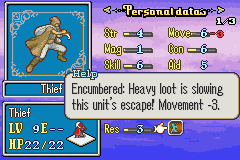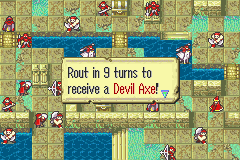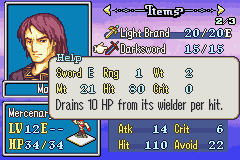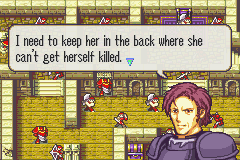 FEE3 2022 showcase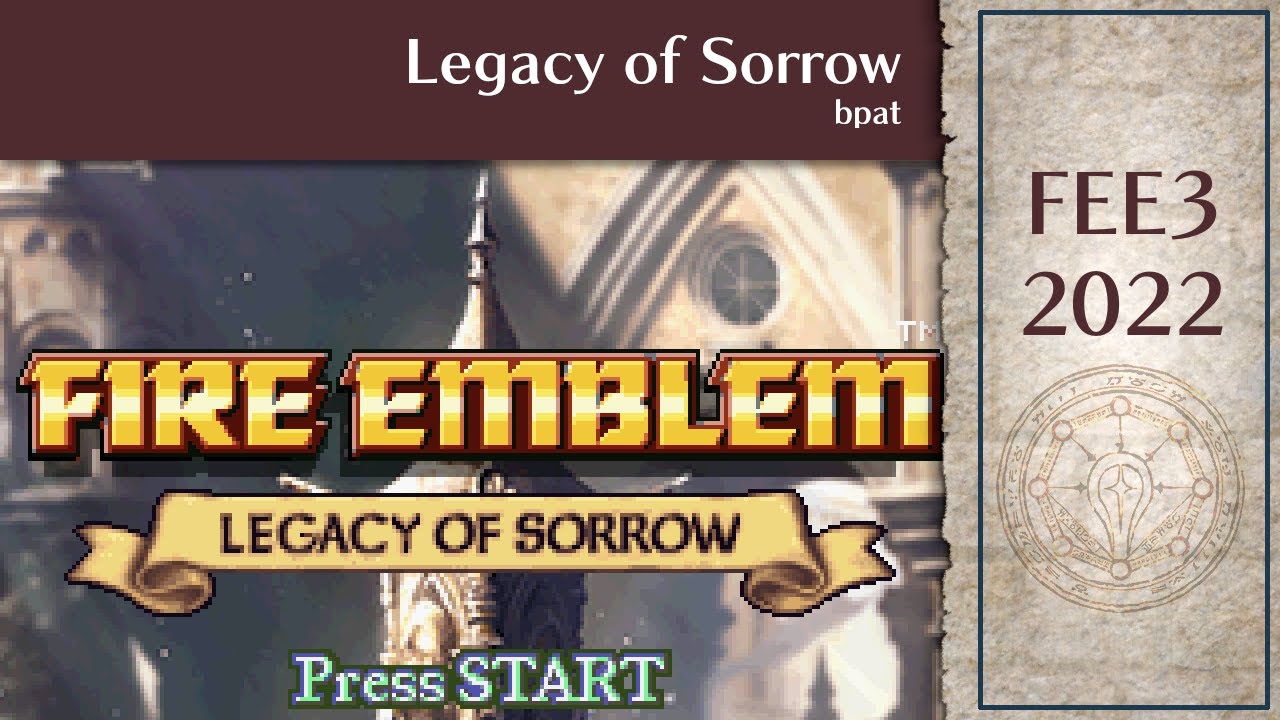 FEE3 2021 showcase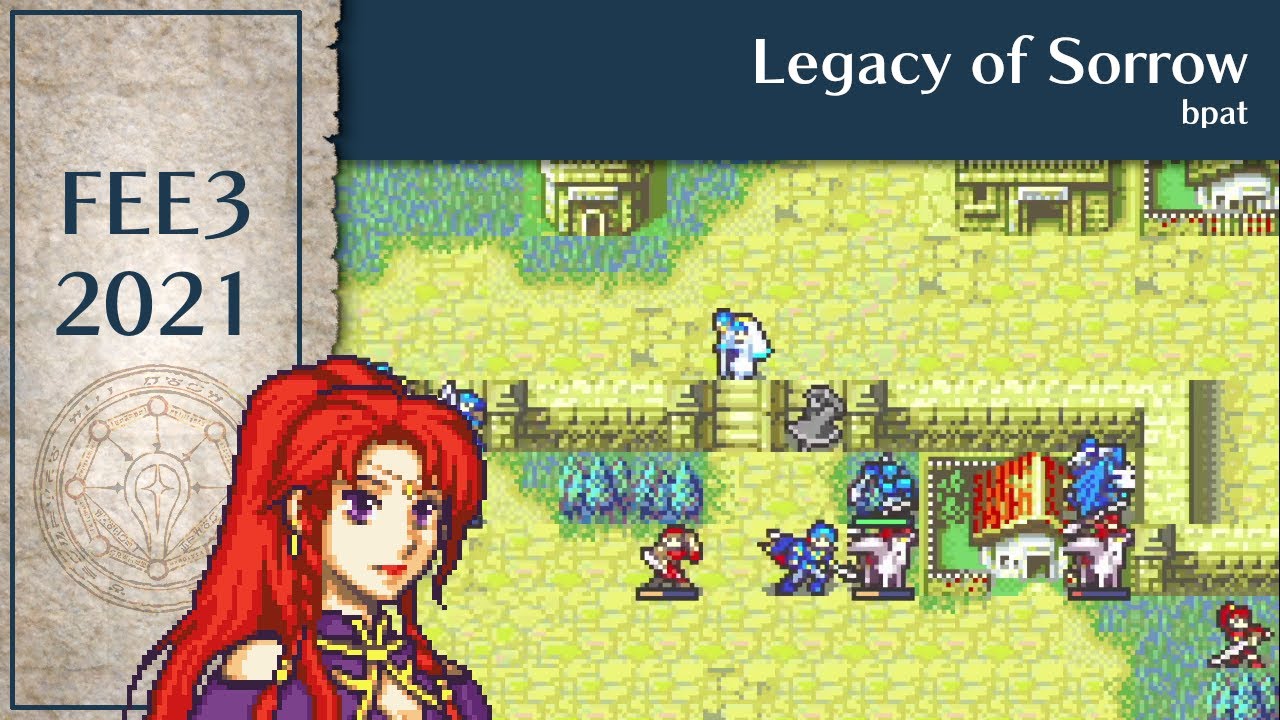 FEE3 2020 showcase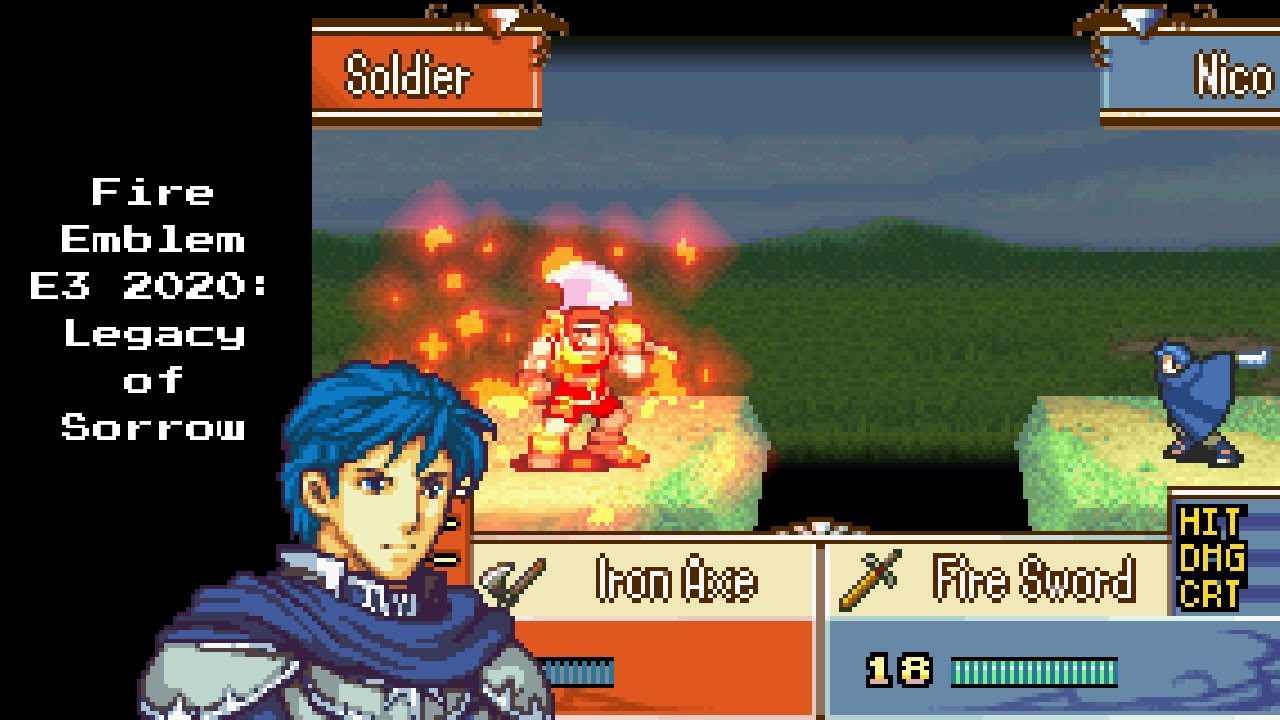 Recruitment guide

Recruits are straightforward in this game, but in case you're unsure, these are all the missable recruitments. Anyone not listed here will join automatically.

Matthias: Talk with Edgar in ch1
Jane: Talk with Edgar in ch2
Sasha: Talk with Edgar in ch3
Justin: Visit the northeast village in ch5
Ted: Talk with Celia in ch5
Lucy: Talk with Celia in ch6
Clint: Talk with Rose in ch7
Victoria: Talk with anyone in ch8
Marie, Evelyn, Donovan, and Trent: Defeat the soldier guarding their cell.
Joey: Visit the western village in ch9
Plans for future releases

I intend to add the following to Legacy of Sorrow in future releases.

Many new items not present in mainline Fire Emblem games.
Many more chapters, for a total length in the 20-25 chapter range.
Custom classes, including hybrid classes that wield physical weapons as well as magic or staves.

I do not plan on including the following features in this game.

Skills beyond simple innate class skills and enemy boss skills.
Split promotions.
Route split.
Known issues

I intend to address these in the future. For the time being, I hope they will not hinder your enjoyment of this game.

The dialogue assumes most characters are recruited and alive.
Many characters have placeholder portraits and lack a custom palette.
Chapter 9 currently has no writing and minimal eventing.
Credits

It's difficult to keep track of the many people who helped me. If I forgot to mention your contribution, please let me know!

Hacking

Skill system: Circleseverywhere. Colorz, Monkeybard, Black Mage, Pikmin1211, Primefusion, Tequila, Rossendale, StanH, Leonarth, 2WB, Teraspark, Darrman, SD9k, Kao, blademaster, Snakey1, Zeta, Kirb, Sme, Ganzap
FEBuilder's entire existence: 7743
Modular Minimug Box: Zane
AI lag fix: hypergammaspaces, Vesly
Chapter titles: Circles
CHAI fix: Tequila
Staff exp: Tequila
Palette insertion: Teraspark
Portrait height fix: 2WB
Send inventory to convoy upon death: Pikmin1211
Rune submenu: Contro and Vesly
Shopping edits: Aura Wolf
Helping me learn hacking in general: Sme, Leonarth, Pikmin1211, Vesly, Contro, circleseverywhere

Art

Portraits: MournfulRelic, Roze, Goldblitzx, LaurentLacroix, Nickt, CapibaraInSpace, Cravat, XVI, AmBrosiac, RandomWizard, Obsidian_Daddy, JiroPaiPai
Portrait touchups: Sterling_Glovner, Epicer, Feier, Roze
Palettes: Epicer
Animations: Nuramon, Alusq, Yangfly Master, Glenwing, MK404, TBA, Orihara_Saki, Feaw, Mikey Seregon, Alfred Kamon, Black Mage, Wan
Icons: Lisandra Brave, Beansy, Snakey1, Ereshkigal, Zelix

Music

Sme, SaXor, RandomWizard, Pandan, Chair, ArcherBias, Pikmin1211, Alusq, Thegis