Hi everyone. I'm happy to present my second full-length hack which is currently in progress. It currently features ten playable maps. I didn't feel like it was polished enough for FEE3, but maybe next year.
To start with, this is a follow-up to Flames of Redemption, taking place in the same world. While there will be callbacks and some returning characters, I hope people who are unfamiliar with my previous work (or didn't enjoy it) don't discount this, as I aim this to be a standalone experience. The focus will be on different characters and the story will have different themes.
Screenshots: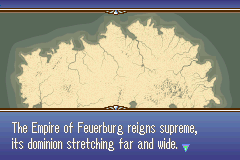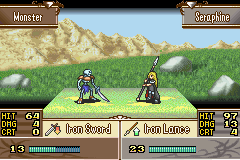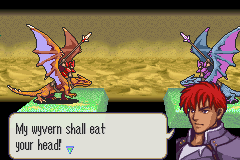 Features and scope

Around 30 chapters planned.

"Fight or flight" philosophy. Aiming for simple chapter design with plenty of objective variety, with emphasis on defeat boss/route, and escape maps.

A character-driven story that focuses on multiple characters, without a singular lead.

Two major arcs: The first half of the game will act as a prequel to FoR, while the second half takes place after it.

Characters will visibly age past certain points.

Mostly custom music, using some custom samples from other games.
Story

In the year 827, the continent of Pyrmont was hit by a devastating illness known as the blood plague, which turned people into monsters. The demand for clerics grew, as only those trained in staves were able to heal the affliction. In order to keep up, the Church of Edda began to hire mercenaries who could escort these clerics to villages.

One of these mercenaries is Einhardt, a reformed ex-convict who now leads a small order that travels throughout southern Feuerbug, in an attempt to save as many people as possible. One day, they are suddenly tasked with eliminating the trade of the 'Panacea', a mysterious, illegal drug crafted by alchemists which supposedly heals the plague…
Core gameplay changes

The usual QoL patches. For example: actions after talk/support, fast-forward animations with R button, and casual mode.

No mid-chapter shops and armories. Preparation shop will be updated depending on what the player needs every chapter. (Unlocked in Ch2)

Poison has been replaced with Plague, which doesn't go away on its own. Damage will scale as the game goes on, but measures have been taken so that the player can deal with it.

The trinity of magic has been expanded, and classes take effective damage (3x) from the magic they're supposed to be weak to. The triangle is: Anima > Light > Dark > Anima

Each anima magic type will have effectiveness against certain classes, like in Tellius:

Thunder > Draconic fliers (wyverns, gargoyles, etc.)

Wind > Non-draconic fliers

Fire > Undead monsters (skeletons, zombies and dog-likes)

Dark and Light magic will have other uses, although there are no playable characters who can cast it of the current patch.

Wyverns are not weak to every bow now, although there are more effective weapons against them.
Support conversations

Supports conversations are planned, and implemented gameplay-wise, but are currently blank. Some will have to be unlocked through the story, and will not trigger before a certain point. Units gain support points just for being deployed in the same map, and there is no support limit. Honestly, I'm not happy with the current system, because it has introduced a few problems. I might end up replacing them with talk conversations at certain chapters, but I don't know yet.
Known issues

Starting a new save file will prompt you to save twice.

The "talk" indicator bubble shows up for some characters who can't support.

Nasreen's Keep Up skill sometimes doesn't work. To fix it, go to her status screen by pressing R, and then back out.
I have a Discord server. You can join if you'd like to report bugs, discuss this project in detail, give feedback, offer a hand or simply chat with us:
Download Link:
Fire Emblem: The Divine Curse 0.2.0
Second release. It includes 10 playable maps in total. Any feedback is appreciated, positive or negative. Hard mode is the difficulty that we've tested the most, but feel free to play Normal Mode if you don't feel like struggling too much.
Credits

Most outside resources were taken from the Resource Repository.

Battle Animations:
Bonewalker (Axe): VilkalizeR (Melee), Big (Hand Axe)
Sword Villager (Squire): Nuramon
Hybrid Hatless Mage: GabrielKnight
Ponytail Archer: DerTheVaporeon
Trickster: Leo_Link (Script by Epicer and Kanto Emblem)
Alice Lord: Yazuki
Elffin Sonneteer: Marlon00224
Female Brigand, Barbarian: eCut
Generic Knight: Salvaged
Generic Cavalier (F): Salvaged
Bulwark King: Leo Link

Portraits:
Sniperguy Hatman (Lennox): BoneManSeth, MeatOfJustice
Mercenary, Version 6 (Einhardt): Sphealnuke
Merlina: LaurentLacroix
Bandit (Version 1): Random Wizard
Brigand Forest (Donald): Matthieu
Skeleton (Mage, version 1): L95, BladerDj
Skeleton: L95
F2E (Nasser): Wasspix2, Shark3134
F2E OC2 (Mubarak): RedBean
Androgynous Waifu (Jaber): XVI
Knight (Version 4) (Nasreen): SamirPlayz
Omar: LaurentLacroix
Assassin (Desert): Wave
F2E OC 21 (Isabella): MeatofJustice
Jake the Pirate: Wasdye
Drake: Spliced from a Bandit mug by Random Wizard

Magic:
Wind (Mikey Seregon)

Map Sprites:
Villager v2: HyperGammaSpaces
Hybrid Hatless Mage: Pikmin, SamirPlayz
Trickster: StreetHero, blood
Bard: Marlon&Louis
Female Brigand: Skitty
Lord (F) Ephraim-Sharena Lance: Circleseverywhere
Generic Knight: SALVAGED
Bow Knight (F): flasubanzzzzz
Baron: WarPath

Class cards:
Trickster: Jj09, Scraiza, Sword of HaE

Tilesets:
Towns: flasuban, N426, ZoramineFae, Venno
Desert Bastion: HyperGammaSpaces

Misc graphics:
Weapon icons (all): Ereshkigal
Green tonic icon: Beansy
Status screen: Lord Glenn

Patches:
Alusq: FE8 custom sample patch
7743: Made FEBuilder, and like half of the patches here.
GFE1R, Zane: MiniMug Box
Agro/Brendor: 16 tracks
Leonarth: 256 Color Title Background, Less Annoying Fog
Huichelaar: AnimNumbers Damage pop-up in battle
circleseverywhere: SkillSys, Actions After Support/Talk, CSA_Creator, drumfix, HP_Bars
Contro: Critcap
Stan: ExModularSave, UnitActionRework
Tequila: Battle Stats with Anims Off, UNCM
ipatix: m4a hq mixer
Scraiza: NarrowFont
Nintenlord: Remove Easy Mode
aera: Change support conversation to 5 people
Vesly: Faster poison damage, Casual Mode
HyperGammaSpaces: Casual mode

MUSIC:
Aquatic Ruin Zone: Sme
Oil Ocean Zone: Sme
FE05 - Crisis: SurfingKyogre
Starcraft - Terran Theme 1: Lemon Tart
Cry-A-Live: RandomWizard

For a somewhat more exhaustive list, please see the txt file included in the drive.