Hey everyone, so this release has kind of been a long time coming since i showed it in fee3 in 2021, like many hack projects life got in the way but, it's in a state now where it's good to release.
This hack is based around extreme stat deflation, sort of a concept hack to play around in the design space to see how far I can push down the stats and still have a functional, fun fire emblem experience with everything stripped back.
It also has a plot but I can't promise a groundbreaking narrative in 5 chapters!
Hopefully for the denizens of FEU this should be an interesting little project to waste an hour on, I hope people find it fun!
As always, feedback is greatly appreciated and always a treat to get so feel free to leave your thoughts below.
If you're interested in helping out, I still need some assets for the hack, primarily portraits for some playable characters and one of the bosses.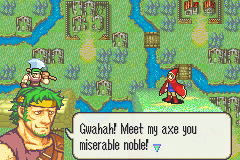 Credits

Development and Writing:

Patches and ASM:
01command_hack - Hextator, 7743
16 tracks 12 sounds - Argo, Brendor
Actions After Support (Contemporary Style) - circleseverywhere, 7743
Actions After Talk (Contemporary Style) - circleseverywhere, 7743
Add Event: Get/Set Unit Status - 7743
Adjust Mode Coefficient Experience Gain - VennoBennu
Anti Huffman Patch - Hextator, 7743
Cavalry Rescue Value for Men - 7743
Cavalry Rescue Value for Women - 7743
Change Easy and Normal Mode Penalties into Bonuses - Shuusuke
Change formula of automatic growth auto level of enemy - stan
Change image in upper right of the preparations - 7743
Change Maximum Luck Cap - 7743
Change Minimum Damage From 0 to 1 - midori patch
Changing the Universal Doubling Threshold (attack speend) - macplustrees
Convert Chapter Titles to Text_ver2 - circleseverywhere, 7743
Disables the Prep Store for a Particular Map 7743
drumfix - circleseverywhere
Fe8 Battle Stats with Anims Off ver2 - Vesley, Tequila
FE8 Display Growths - Tequila
FE8 Null Move Display - stan
Fix CAM1/CAMERA2 going out of bounds = TR143
Fixed Growths Mode - TR143
HPBars_with_warnings - circleseveywhere, Tequila
Limit Weapon Rank Display - jjl2357, Blademaster, Hexator, Tequilla
Limitless Trading - aera
Map Danger Zone (Select: Toggle) - circleseverywhere
Modify Number of Supports - Brendor
ModularMinimugBox 2018 (VisionQuest Style with ItemList) - Pandan, Scraiza, ZaneAvernathy
Multi Class Pick Skill - kao, 7743
Multi Tile Marker Display multiple exit markers on the map - 7743
Playable Character HP Limit - 7743
Prevent Freeze for Camera Event 0x26 - 7743
Remove arrow wiggling advancing RN - Crazycolorz5
Remove Support Viewer - Aera
Remove the menu that displays the support list from the preparation screen - Shuusuke
Set Default Option "Animation" - 7743
Set Default Option "Cursor etc" - 7743
Set Preperations Store Pricing - aera
Set Staff Experience - 7743
Show Heal Amount - Tequila
Skip Intro and Class Roll - 7743
Skip World Map Fix (Remove World Map Completely) - 7743
Skip: Game Opening Demo - Fati
Skip: Opening (OPENING_CUT) - 7743
Sound NIMAP - circleseverywhere
Sound NIMAP2 - Alusq
Sound Room 100% Unlocked - 7743
Stat Bar Max Length - 7743
Toggle Difficulty Select Skip - Stan, 7743
Toggle New Game Intro Cutscene - circleseverywhere
Toggle New Game Text - circleseverywhere
Toggle: Health & Safety Warning - circleseverywhere
Upper Limit of Moving Power - beikehanmu
Vulnerary Heal Amount - 7743

Portraits:
Aria - Levin64
Eloisa - (Placeholder)
Dariel - Knabepicer
Simone - RandomWizard
Six - (Placeholder)
Milo - RandomWizard
Kale - (Placeholder)
Eileen - SSHX
Bryan - (Placeholder)
Reena - Laurent Lacroix
Saami - Levin64
Luke - Scottythebody
Eli - Levin64
Baldrick - Toa
Mavis - MournfulRelic/Kyrads
Georg - Avalon
Gaum - (Placeholder)

Animations:
Fencer - GabrielKnight
Knight (Sword) - TheBlindArcher
Mercenary Repalette - Eldritch Abomination, Knabepicer
Berserker - DerTheVaporeon
M!Pegasus Knight - SixThousandHulls
F!Mercenary - TheBlindArcher
Thief - Skitty, GabrielKnight, Pikmin1211, Maiser6
F!Fighter - Black Mage

Weapon Icons:
Javelin, Hand Axe, Dagger, Iron Poleaxe, Steel Poleaxe:

User Interface & Other Graphics:
Stat Screen - feels

Music:
All FE3 Music - Sme
FE5 Squadron B - Dolkar
FE12 Before Battle - Scraiza

Playtesting:

Leche
Pandan
Sdaht
Bpat
Godspetturtle

Special Thanks:

7743 for FEBuilder
FEU community for all the amazing resources and support for hacking!