Prep-Pick-Skill-Screen:

Add & remove skill:

Replace skill if skill-list is already filled:

Fail to add or remove ROM skill:

Reference:
---
This reconstructs a set of c-SkillSystem (W.I.P.) based on FE-CHAX and Skill-Lite (thanks to @StanH ). It is welcome for you to fork or port it for your own skillsystem construction.
---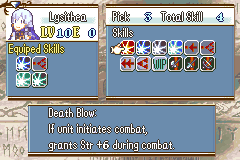 Update 2022.04.22
re-designed on UI so that
Extend the maximum length of each line of skill desc text to avoid text overflow issues.
Reduced the maximum number of icons in the interface to avoid icon overflow (the number of icons displayed at the same time should be less than 0x20)