Hello FEU People! So, I've been trying to figure out how to get that awesome lightning bolt that Limstella uses to work for me in my own context, and I've dicked around enough to figure out most of it, but I could use some help getting it in the right place.
The code I'm using is this:
_LIGHTNING $DD 4 9 $42 0x99 0x14 0x01 0x08
with the original being:
_LIGHTNING Value Value Value Value Value Value Value Value
The "_LIGHTNING" code is in the EA, but it doesn't actually tell me jack about what those values are supposed to be. Best I can tell, this should be close. "4" and "9" were originally 0x04 and 0x09, and they are apparently supposed to be the location on the map where it strikes. But it seems like changing them actually doesn't do anything at all.
Here's what it looks like right now: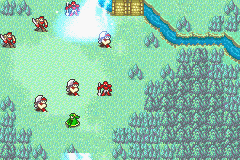 I want it to hit that fighter in the middle, who's standing at (4,9). Can anyone help me out on this one? Solve the mystery?