History

Hello everyone, I am a player from China. I hope to use my spare time to remake fe4. Now I'm just starting this project. Due to my busy work, this project may take several years. But I believe I can hold on to success. Here, I will share my work progress at any time, and I hope you can give me more valuable opinions. If you have any ideas about fe4 remaking, welcome to exchange.

Now let me talk about some of my simple ideas.

Due to the large size of FE4 maps, I hope the remaked game can be run on PC platform. With higher resolution, a larger field of vision can be obtained.
Try to retain the characteristics of the original system, and combine with 776 for moderate balance and improvement. For example, let all Knights can dismount, increase capture, steal and rescue instructions. Add some new classes and items.
Add more support dialogue, the support relationship is not limited to lovers and siblings.
Just remake the upper part.

Because I seldom use English for many years, my English is not good. So some of the above content is machine translation, I hope you understand.

If you have any good suggestions, please communicate with me.

6/30/2021

I'm currently designing AI for the game. I know that there are two modes of AI in FE4, but I have no idea how it works. Maybe I should redesign AI, not just the original. About how to design AI, do you have any good ideas to share.

7/7/2021

Hello everyone, I'm back. Recently, I joined the gbajam 2021, and my work is very busy, so even if I have little rest, I still don't have enough time to promote this project. Considering that I hope to participate in fee3 this year, first of all, I want to prove that this project really exists. I will report my progress here. So far, I have finished the introduction and dialogue part (a GALGAME engine), and imported FE4 map and some basic data. Next I'll finish moving and fighting this month. I want to show some screenshots of my current work.

PS. This project runs on PC platform. Limited by the size of the original image of the game, I set the resolution to 512 * 384 (you can stretch to full screen).
8/2/2021
Hello, everyone. I'm very busy recently. I haven't updated it for a long time. At present, the character information interface has been partially completed, and Dijkstra's algorithm has been added today. Next I will start making unit movement and enemy AI. I hope I can finish more before fee3 starts.
When I calculate the road movement loss according to 0.7, the result is slightly different from the original game. I believe my algorithm should be more accurate.
Because I am not good at English, some of the above words are machine translation, I hope you will forgive me.
screenshots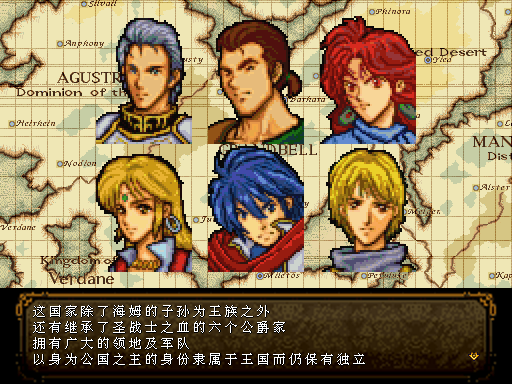 portraits drawn by 及川熊五郎