Before asking, make sure to search! Press the in the upper right to search.
Hacking method: FEBuilder
So, exactly as it says on the tin! I'll start off saying that I'm a bit of an idiot, so basically any ASM will about go over my head. Any progress I've made is from stumbling around, previous knowledge from other methods of code and guesswork.
I've been playing around with and experimenting with adding growths for these two stats for a bit for fun so I probably won't be too broken up if I can't work it out. Apologies for any ramblings, not great with words.
I've changed around a few files and added the growth rates for the two and they fundamentally seem to work, they use the 0x46 and 0x47 unknowns in the battle data thing and they DO go up when levelling, were I to guess I'm just missing out how to actually tie it to the level up function.
For reference~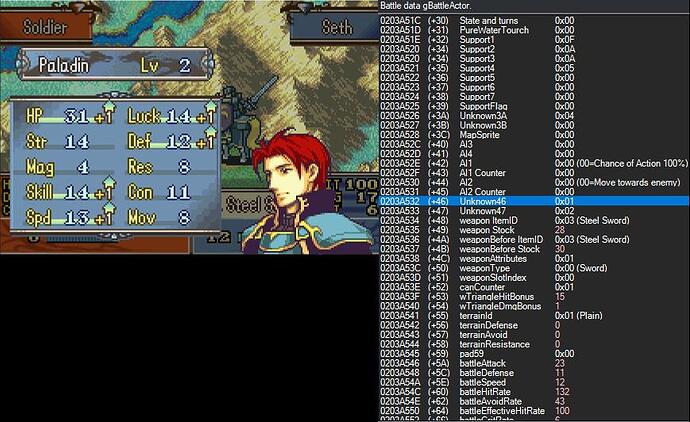 The Con (46) growth is 100, and the Move (47) growth is 255, so those two seem to line up properly, and they do seem to clear properly after the leveling is done.
If I'm missing any key info I'll be sure to try to dig it but, as noted I'm a bit dumb.
Ah, while it may be obvious I should probably mention that I am using the things from the Skill System to do this.