[DISCORD USERS: Join the discord server here and connect with the developer, along with other players: Shackled Power Development Corner]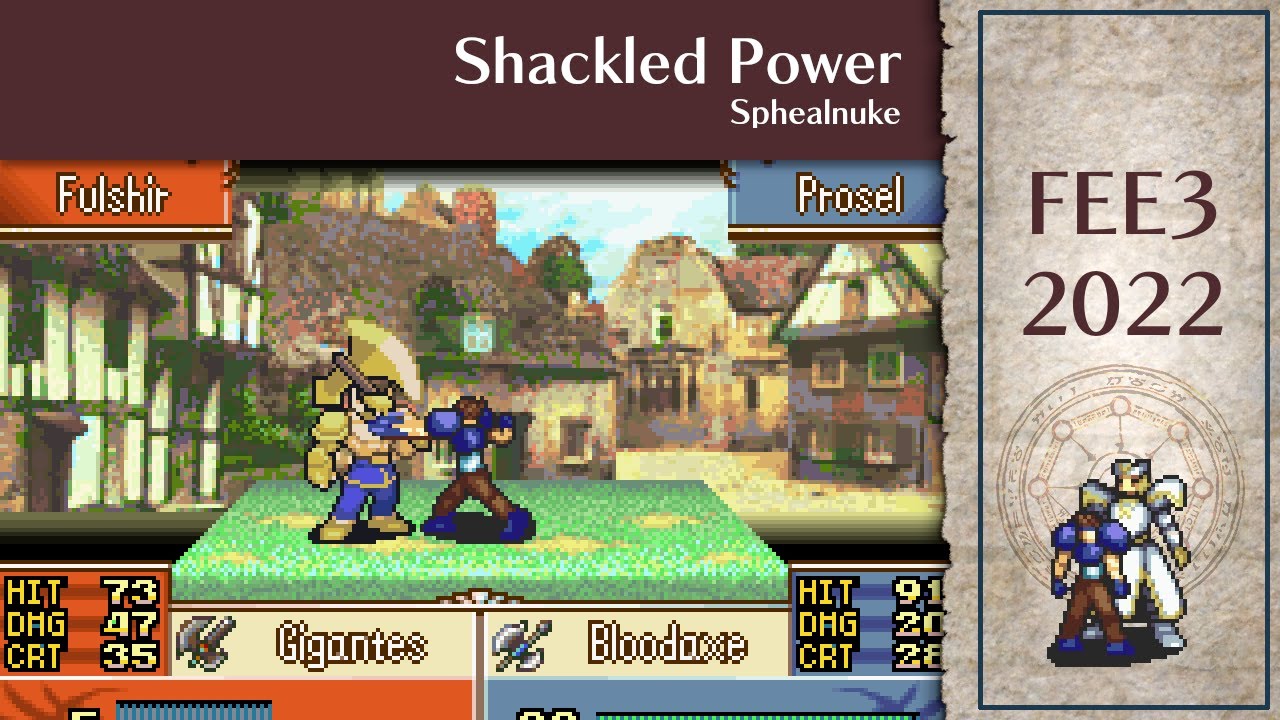 Story

The Land of Altina has been at rest for many years after the massive crusades from its most powerful nations, Birene and Gothen. Their collective conquests reduced the land to being split down the middle between their lands. In the coming years, both have dreamed of building themselves back up into great military powers to claim the rest of the land for themselves.

However, their latest stalemate resulted in the death of Gothen's warlord, King Gustav. Morale in Gothen is low and must be corrected if they truly hope to get revenge on Birene. While Birene has been satisfied in turning itself into a trade empire, the surviving queen has been provided with an extreme measure for taking control… and she's ready to act on it.

Via a thwarted attempt to put Birene into a state of array, the Birenian king's youngest son learns that the Gothen queen is ready to put them in their place. With the aid of his new public recruiting program, Prince Prosel must assemble a force to cut off the queen and put a stop to her desperate attempt. If he fails, she could do far worse to him and his nation than they have ever been able to do to her…
GAMEPLAY FEATURES:
-Guide Prosel and over forty other playable units through huge amounts of tactical warfare!
-33 chapters of punching out anyone unfortunate enough to be standing in your way!
-A wide variety of new weapons to play around and strategize with!
-Every unit that uses axes as their primary weapon gets their own unique Prf axe with varying effects!
-Kick down doors, bust open chests and blitz through water with your very lord!
-All new weapon type: Bombs! Shells that contain magical charges, they can be used as indirect projectiles to test enemy resistance with your strength stat! Usable by thieves and an all new class…
-Introducing the Guerilla class! Specializing in indirect warfare, they can plow through terrain barely impaired and snipe the enemy! Promotable with the Crook(Ocean) Seal into Lieutenants!
-Rarely distributed skills to keep things vaguely close to vanilla. Expect to see battle skills on important bosses.
-A brand-new story and land to absorb and learn about as you go!
-Bigger promotion bonuses!
-Over 120 support chains varying wildly in entertainment and potential insight!
-No deserts!
-New music from other GBA games!
DOWNLOAD HERE:
Previous Versions
Thanks for checking this out and enjoy the carnage!
Resources (Spoilers in all of them!)

Unit Stats
Recruitment Guide
Secrets and Easter Eggs
Tier List Maker
Credits

PORTRAITS-
~Feels [Formortiis Portrait]
~Bwan [Miranda Portrait]
~Obsidian [Art Lessons]
~Levin [FEE3 Thumbnail]
~LaurentLacroix [Carl/Gerard Portraits]
~Zelkami [McGaier Portrait]
~Mond [Gaspar Retouch]
~Coby [Madari's Eyes]
~BuskHusker [Cyrus/Alta/Melanie Retouch, Madari edits]
~Gold [Mirales Base]
~SALVAGED [Art Advice/Being Awesome People]

BATTLE SCREEN-
~Sokaballa [Technical Aid]

CLASS CARDS-
~Uncredited [FShaman, FMage]
~Nuramon [FHero, Gold Knight Sword]
~DerTheVaporeon [Sword Knight]
~FPZero [Sword Cav]
~Team SALVAGED [FAxe Cav, FAxe Paladin]
~L95 [FDruid, FSage]
~Epicer [Sword Knight]

ICONS-
~Ereshkigal [V1.3 Icon Sheet]

MAPS-
~ZoramineFae [Lava Village Tileset]

MUSIC-
~Percevalko (Various)

ANIMATIONS-

~MrNight [Matriarch]
~DerTheVaporeon [Matriarch]
~SALVAGED TEAM [Cavaliers]
~St. Jack [G.Lord Eirika with Axes]
~Nuramon [Gold Knight,FemHero]
~TBA,Kilvas,Spud,BlueDruid [Axe Wyverns]
~BlackMage [Halberdier]
~Glenwing [Lloyd Swordmaster]
~Leo_Link [Savage Lord Still, Bulwark Knight, Tellius Fighter/Warrior]
~Pikmin1211 [Nomad Trooper Non-Sacaean]
~Maiser6 [Nomad Trooper Non-Sacaean]
~blood [Bulwark King Map Sprite]
~RiriK [Female Great Knight]
~Norikins [Sword General Map Sprite]
~Greentea [Generic-Ursula Valkyrie, Dartzerker]
~Orihara_Saki [Jormungand Spell]
~Dolkar [Exaccus FE8]
~Nuramon [Tellius Warrior]
~Spud [Tellius Warrior]
-Mikey Seregon (Axe Wyvern Rider)
-Alfred Kamon (Axe Wyvern Rider)

IMPORTANT PLAYTESTERS-

~Pyrover
~KrashBoomBang
~ChessJumpBowl
~MournfulRelic
~Gold
~Rivian

PROOFREADERS~

~Jehanna
~MaX9o
~Daiin
~Bobby

FEBUILDER-

~Huge thanks to 7743, Circles and all of the patch makers I can't identify.
16 Tracks/12 Sounds Fix (credit Agro/Brendor)
Autosave Killer by laqieer
Conditional Talk w/A-Support by Aera
Boss Animation ON by Aera
Fix CG Fade Glitch by 7743
Set Victory BGM By Chapter by 7743
Convert Chapter Titles to Text by Circles
Actions after Supports/Talks by Circles
Map Danger Zones by Circles
Disable Minimap Toggle by 7743
Drumfix by Circles
Remove Enemy Control Glitch by Brendor
Set Flag when Enemy Escapes by 7743
Escape Menu by 7743
Support Level Check by Kaito
Support Level Get by 7743
Escape Event by Aera
Ex Modular Save with 200 Convoy Spots by Stan
Battle Stats with Anims OFF by Tequila
Capture FE5 Style (Unused) by Tequila
Rogue Robbery by Tequila
01/48 Command Hacks by Hextator
Anti-Huffman by Hextator
FEEditor Magic CSA System by Hextor
Fill AI Danger Map Efficiency Fix by HyperGammaSpaces
Fix dodge to front glitch by Snakey1
fix_lz77decompress by Tequila
HP Bars with Warnings by Circles
Simple HP Bars by Circles/Zane
Improved Sound Mixer by ipatix
Character Custom Animation by EA ver 2 by 7743
Even in fog, it ensures visibility at specific coordinates. ver3 by 7743
Deny Deployment From Preparation by 7743
LeaderAIFix by Stan
Less Annoying Fog by Leonarth
Magic Sword Rework by Sme
Add Event Condition: Tile Change by 7743
Skip World Map Fix by Stan
ModularMinimugBox: VisionQuest Style with ItemList by Pandan, Scraiza, Zane
Define Multiple Prohibits the Crit By Item by 7743
Define Multiple dancers(Battle animation effect) by 7743
MultiTileMarker Display multiple exit markers on the map by 7743
Define multiple classes that can discover desert treasures by 7743
NarrowFont by Scraiza
Switch the death Quote for each unit who is killer by 7743
Expanded the setting of the ring effect used by dancers by 7743
Skill SkillSystems by 7743
Skip the event using the opening world map by ???
SOUND_NIMAP(Native Instrument Map) by Circles
SOUND_NIMAP2(Native Instrument Map) by Alusq
Stairs by Snakey1
TorchWeapons by 7743
UnitActionRework by Stan
Change Effectiveness damage coefficient of the weapon by 7743
Enemies Display Droppable Items by Mkol
Allow Visit for Any Tile by Gamma
Send All Unit Items to Transporter by 7743
Extend Weapon Description Box by Vesly
Modify S-Rank Limits by Tequila
Steal with Full Inventory by Vesly
Screenshots