if i'm being honest, i've always found bsfe (and the satellaview in general) to be pretty damn fascinating. since obviously bsfe is just fe3 with a slightly different coat of paint, for a while i've been wondering just how much of fe3 actually survives in the game, but i've never seen anything resembling information on that at all anywhere. last night in a fit of boredom i decided it was time to try probing its guts to find out, but the problem is, a) to my knowledge bsfe's innards are not documented at all, and b) i can't hack or maths for shit. it took hours of constant stumbling and confused screeching to wrap my head around this, all leading to a frustratingly obvious conclusion…
…but once i realised i didn't actually need to look too far at all from what fe3 does, tl;dr shit was Found
disclaimer: i'm 99% certain that, barring the actual content specific to each bsfe chapter, everything is the same in all of them. that said, the majority of my digging was done in part 4, although i've poked around in parts 1 and 3 enought to confirm that values are the same there
if you want to poke around with them yourself, pick bsnes-plus and use its memory editor to adjust values. you'll also need the bs-x bios rom to play bsfe
anyway
items!
my first port of call was experimenting with items, because i figured that'd be an easy way in. if the structure's anything like fe3 (and it is), unit inventories in memory are comprised of a string of 0x10 bytes - four for the weapon ids, four for the weapon durabilities, four for the item ids, four for the item durabilities; so plugging in, say, the first seven bytes denoting camus's inventory (17 11 02 ff 11 14 14) gave me a relatively distinctive string to look for. tl;dr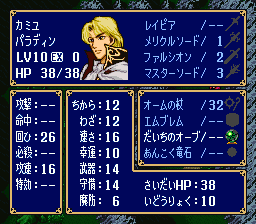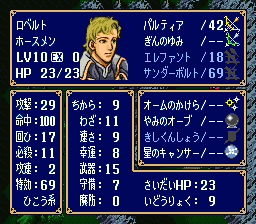 every item from vanilla fe3 is here, and i do mean every item, including the stuff that was already unused in fe3. since bsfe introduces no new items, they didn't even overwrite anything to make room. icons, stats and even effects are all intact with no problems: the darksphere still completely seals attacks, the starsphere and its fragments still boost growths, the geosphere, to my surprise, still does the quakey thing with no problems, etc etc. that said, bsfe's lack of battle animations means that class change items just lock the game, as does any dragonstone used by anyone aside from the part 4 boss. other than that, everything works just as it does in fe3
for those playing along at home, the inventory of your first unit (ie nyna/hardin/rickard/nyna again) starts at 7F4C30 and the other playable characters occupy the subsequent lines
classes!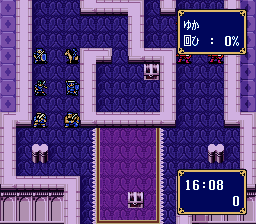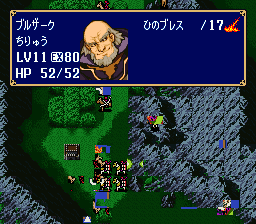 entries for all of fe3's classes are still in bsfe, but unlike items, they're much less complete. in each rom, the classes not used by that given rom are typically graphically incomplete: many of them only have their neutral pose (pictured left) and if they are moved, the game either plays the animations of some other used class or just sprays junk graphics everywhere and calls it an animation. a handful of classes, mostly ones later on down the game's list (chiefly dragons and enemy-exclusive classes) don't have any surviving graphics at all and are completely invisible on the map when not selected or moving; when moved they again spray junk graphics everywhere (pictured right)
additionally, having dancers and chameleons attempt to dance or imitate will just crash the game. i'm assuming this is a result of missing map animations for the former and the lack of battle animations for the latter
edit the byte at 7F4431 to change your lead character's class; legitimate values run from 00 (lord) to 2C (mage dragon)
characters!
i'm in a bit of a hurry so tl;dr: all character name entries from fe3 still exist in bsfe. bsfe doesn't replace any of them for its new characters, and just appends those onto the end. character locks appear to still exist. can't speak for growths or base stats at all because i have no idea where to go for those. however, no character portraits from fe3 survive at all and you'll just get garbage in their place. makes sense that they'd clear those out
for some reason, a unit's character name and their portrait are denoted by separate bytes. edit 7F4445 to change the name, and 7F4446 to change the portrait
other stuff!
after i went through all of this darrman did some digging of his own, and…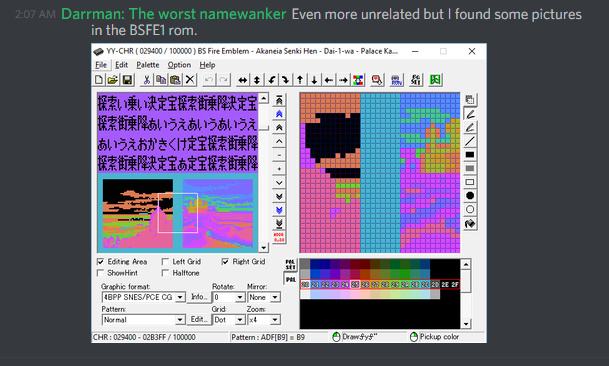 he found a few of those little pictures accompanying opening narrations still surviving in the exact same place in all four bsfe roms. i'd best leave talkin about the details here to him, if he's interested
in conclusion,