Hey everyone!
I did my first full custom sprite one week ago, and I would like some feedback on it.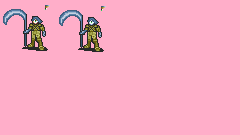 This character has a human face and a non human face.
I followed a bit of Ephraim's model by drawing my character besides him (that's why it looks the same for some parts) but I'll eventually change it more when i'll be better at it.
This is my second attempt, my first was really funny haha! And of course, when i did it, I copied every key steps to prevent destroying every progress i've made.(i even kept the first attempt to see the evolution) I just didn't include it here to have a better view of the final sprite. (the .png where i've did all my work is really…wow xD)
If you have any advice for me, to understand better how to draw some body parts, etc…Please, tell me!