If only we could get Lilina to 69 upvotes. Come on, guys! Smash that like button!
Will that unlock what achievements?
There, I was the 69th.
70th from me.
Whoo! Seventy hearts!
Nine more upvotes and Lilina will be the highest upvoted post on the site! The goal is to surpass 78 hearts in the Sacred Echoes topic!
everybody go un-heart the sacred echoes topic!
please don't
Can't unheart something after a certain time period has passed. I think it's like 1 hour or 24 hours. I've never tested it because a Jedi never goes back on his word.
I am so proud of this community
Sacred Echoes is 81, and Lilina is 80.
Someone please post a new animation so this unnecessary clutter in the thread ends
I'm sure at least a few of you have heard of the tarantula wizard before so I decided on making an animation for it at some point, and my procrastination about it kinda died today as I did make the animation overall. The glory that is the tarantula wizard is in the .gif below.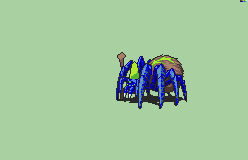 Here's the link, and enjoy this animation!
I never knew how badly I needed this in my life. Not before today, that is.
Now we can all get HYPE over taruntula wizard votes!