[5:27:55 PM] ghast: okay, you know in mappy/tiled in the "write map pointer" box?
[5:28:38 PM] Matt Chung (Agro): yuuup?
[5:29:02 PM] ghast: can you point that to free space?
[5:29:11 PM] ghast: like I've been using the vanilla ones the whole time
[5:29:17 PM] ghast: and just reusing them
[5:29:22 PM] Matt Chung (Agro): wtf
[5:29:24 PM] Matt Chung (Agro): of course you can
[5:29:36 PM] ghast: lekeks
[5:29:40 PM] Matt Chung (Agro): omg
[5:29:46 PM] Matt Chung (Agro): how have you not been fucking up every map
[5:29:55 PM] ghast: because Agro
[5:30:02 PM] ghast: I'm the best worst hacker in the community
Ohh, apparently the final boss of SMTxFE is [spoiler=spoilertho]Medeus[/spoiler] I'm ok with this.
Oh, Tiki's divine dragon form is based of off FE3 book 2, fluffy dragon : D
Ok, I'm trying to find a post, but now I'm trying to figure out if my brain is making it up, searching things like FE1 and Resistance are what I've been doing.
Has there been a discussion about FE1's resistance stat bugging out if you put it at a nonzero growth? Or did I imagine that? (or was it on another forum entirely lol)
There was this post during the thread on the Starsphere's actual effect when it came to growths, but that's the closest I remember to what you're describing…
Not sure how many have seen the original, but I touched up an' old sprite and don't want to make a sprites topic.

Head shaping's not too good in regards to the brow and the armour's a bit plain Ephraim's pads, fuck you~
/but I felt like sharing anyways.
Happy new year, fuckers.
happy new year to you toooo
hpayhp newyear ,you lgorious fukcs
-grasps dramatically towards the sunset-
Happy new year everyone. Hope the hackers make quality hacks, while the lazers (ie me) do something.
ALSO, I have been leaked a prototype of FE15 for the NES. It is on the Virtual Console and features some strange boss fights.
Miiverse is the greatest thing Nintendo has ever made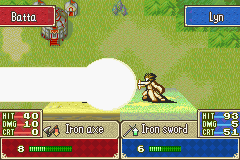 that is all
"I am Batta the GWAAAAAAAAAAAH"
Match win!
Oh, hey, I didn't realize you could upload a little background for your… uh… user card. (the thing that pops up when you click on someone's icon when reading a topic.) Neat.
greatest animation i've ever created