I'll play for 30 more mins (it'll be 1AM for me)
Nooo so close to a knockout
Like two steps :'D
Pro tactics
Ok, like two more matches and I'm done, I think.
Hm, maybe three, I'll rank up if I win twice more <.<
…why are there people with blank names?
OK this'll be my last match.
Good night. If anyone else wants to add me sent the request and I'll get to it in the morning.
i AM BACK AGAIN
I am now A- rank yay. I haven't played ranked in a while before this, because disconnection errors was making me seriously consider stabbing my wiiu
Oh hey I forgot topics can bump with edits
so i guess my bro plays piano or something
I'm still best Splattershot main. You're hard-pressed to find non-Tentatek Splattershot players at my level.
Completely irrelevant, but when I was a wee lass FE8 taught me the word excommunicated and I always think of Riev whenever I hear someone use it. It is somewhat annoying. (Being reminded of his face, not the word, I mean.)
i only know of the word within the context of Judaism
He says it in chapter 19
"Heh heh heh… You cretin, Mansel… I will have my revenge. You should
never have excommunicated me. The Demon King will be your new master!"
EDIT:
I keep forgetting to hit reply.
Your new word of the day is bifurcate.
Best piano song I saw recently was this one.
In unrelated-but-related-to-FE news, FE6 is finally going up on the Japanese eshop next month. Wonder what took them so long?
no one likes roy is what happened
A hack called Tenchi no Tsurugi comes out today.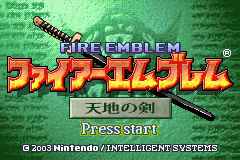 Custom maps, characters and story. Nearly 30 chapters. It takes the author over one year and a half to make it(2014.1-2015.9). It is said to have a good balance.(After all, I only tried several maps today.) The heroine called Saya(I love this name somehow
) is the daughter of Lyn. For more info., play it yourself. Patch it to a clean FE7 jp rom.
PS: I posted it here instead of starting a new topic because I don't want to trouble the author too much. I only attempt to share sth interesting with the members here.
I CAN'T READ MOONSPEAK
WHAT DO I CLICK
Seriously tho FEU? Body is invalid? Alright bud whatever you say.
Are you serious? What you click is a download page. What you need to do is only to click the "download" button, take out the .ups from the pack and patch it to your rom if you would like to have a try. If not, ignore my words.
PS: FE if is also in moonspeak now.
it doesn't let you caps lock
@Klokinator


Hopefully this clears things up
edit: I forgot to actually mention the project in question. It sounds interesting; I'll probably play it this week.
Hold on, what am I supposed to click in that image? I can't tell, it's like the arrows are trying to tell me something…