First off the name, I just like combining words. Celestial-Star-(Aurora) Borealis. I'm also obsessed with space, stars and the moon. Carrying on!
All releases for both Books I and II (And any further that may occur) are now found in a folder so I don't need to remember to keep redoing links, efficiency!
Random spiels

I have no sense in art and… whatever, so character battle sprites and portraits are going mismatch a bit.
I also have no sense in colours and all that, so there may be weird things there.
I've ALSO also no sense in level/map design so these map monstrosities were left to the randomness of the map randomiser for the most part, with me just tossing a random tile/chest/house here or there. (Thank you map randomiser for making it possible for a derp like me either way!)
I've also x3 got zero sense in balancing, everything here is guesswork.

Really a lot of what motivates me to do stuff is just what I find fun, but I've got a weird idea of fun so I've no idea of what anyone else thinks. Related to that a lot of what I do is on a whim with no planning, so I don't doubt inonsistencies there.

If something's gone terribly wrong, since I'm the only one to work on this it is quite highly likely that it's my fault. don't yell at me too much though pls.

Some 'promoted' classes (In particular 'special' variants like Black Crusader) and special classes cap at level 30 instead of 20, still debating if I should just make EVERY promoted class cap at 30.

For a bit of weird explanation to what this might be, I do want to do proper game dev stuff with this as a guide at some point, so a lot of this is prehaps selfishly for me to have something to work off of for story and general events and stuff, but hopefully this hack will at least be fun enough in its own right.

There are going to be a few inconsistencies in character portraits, most of them are years apart in creation and need updating, I'm really lazy with updates though so they might just stay as is.
Book II
Features!
Lots of foxgirls! (again!) A number of other fantasy-flavoured races too!
Constitution and Movement growths!
Custom skills!
Movement Stars!
A take on Engage's Smash weapons!
It's still playable!
Chapter selection yet again!
Save data that carries over! Process here~ Celestaris - A Guide To Carrying Saves Over - YouTube
Weird writing!
Chapters have music unique to the chapter!
Thracia trading again!
New affinity!(ies?)
New weapon types! For example Gun using Skill for damage and Knives being the stat reduction menace they are in Fates!
The ability for any character to capture and foot-locked units to shove/smite!
An expanded (and probably also convoluted) weapon triangle!
Cast! (So far!)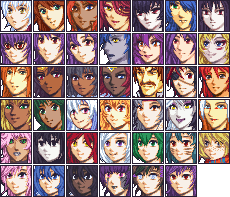 Screenshots


A Master Knight! Oooh.

Personal skill!.. And an extremely muscular elf woman.


Guns and knives!
Changelog

v.(75).0.3.0.20230604105826

v.0.4.0.20230614211854

New weapon triangle stuff! Guns and Knives are part of their own Ranged Physical triangle along with bows!
Chapter X-1 added.
Gun weapon type damages based on SKL instead of STR.
A few changes to the character status screen pages.
X-2 Lyulf given Fenrir instead of Jormungand
Sionnach's sword/axe rank removed.
Rowena's sword/lance rank removed, has a Steel Knife instead of Steel Sword.
Likely a few other things I'm forgetting, having recreated the chapters from scratch again, haha.

v.0.4.1.20230617121508

Those missing personal skills before now have them.
The 'protagonists' (Chapter select characters) are now considered 'Lord' characters.
The 'Misc' page of the character status screens now shows a character's race. (If one of the features is non-Fire Emblem races, may as well lean into it)
Fixed growths option! Will give the option once on the chapter select. Will also work for existing saves when you get to the chapter select next.
Unique ultimate weapons will now be 'refreshed' upon re-entering their origin chapter as with Book I.
The pointless ending spiels from Book I return!

v.0.4.2.20230620124321

Fox mama Anji and fox grandma Azukiiro have had their portraits updated for bigger ears.
A few musical themes have had their volumes reduced.
Ylva 'should' properly rejoin if you redo X-1 (If you looked in the unit menu before you'd not see her there)
Tarvos and Maelduin are now also considered mounted for anti-cavalry weaponry.
X-2 Kiyiya (Oasis house) will now give you a Hammer instead of Armourslayer.

v.0.4.3.20230627205831

X-1 there seems to have been a bit of forgotten code which made something spawn when it shouldn't have, that's been rectified.
Typo fixes.
Monster weapons can no longer be yoinked if you capture the monsters (Which… is good, stop pulling zombie claws out and putting them in your pocket ew). (This DOES exclude the 'Dark' weapons like Crimson Eye, though!)
Removed the ability to throw knives into the supply! (This was because if you put them in you couldn't get them back out so they'd waste space AND you'd lose the thing.)
Silver Weapons are now B Rank, with Brave weapons being A Rank, Steel Axe's rank corrected to D as well. Greatlances all went down a rank as well. (The Silver Nageyari and Silver Flatbow stay as A Rank)
New shiny chapter intros!
Character status screen updated a bit.
Characters you've got killed will now be revived upon doing their origin chapter via the power of necromancy!.. Again.
Save file changes, so now there should be room for 200 convoy items like Book I, hopefully this doesn't kill everything.
A number of map sprites (mostly monsters) squished to reduce the chance for map sprite weirdness.
Now there's a more visual indicator on the status screen to show if a unit can use a knife/gun/etc. (Still need to figure how to get rid of the usual bar/text it shows, since those are useless here.)
Book I save compatability is here! As of yet it only boosts Velvet's stats (Being the only current returning character) and keeps most of your convoy items, but keep your completed Book I save handy in case more is added later.

v.0.4.4.20230628210923

Extra weapon types on the status screen now only show the icon.

v0.5.0.20230709225319

Now you may freely move in the chapter select!
Chapter X-S2 is now playable!
You can check a character's race description to learn more about their race!
No more weapon rank limits, if a character has a rank it can become S.
The level cap glitch should be fixed now.
Typo fixes and description updates.
Special weapon rank icons updated thanks to Lukirioh!
Dancer ring usability is now shown in the weapon types. Same with Monsters showing an icon for the 'Evil' type.
More weapon types! X-1 Xtabay's Demilune is now considered a Scythe.
Now you can toss knives into the convoy again! Some jiggery-pokery was done so it may take a while to get used to new item placements.
Weird chapter select glitchy enemies are no longer an issue.

v1.0.0.20230716162153

Typo fixes and description updates.
Chapter X-3 is now playable!

v1.0.1.20230718201230

Weird character stuff should be fixed after finishing X-3 (For example losing Veliko if you didn't open his cell)
A new 'Battle Preparation map' to sort through character inventories more efficiently.
A new 'Password' system, right now there is only one password that will be revealed in that 'Just Another FE8 PME' I'm working on.
Title screen updated a bit.

v1.0.2.20230722105701

Everyone in Chapter X-3 has personal skills.
A description update somewhere.
---
Book I

Features!

…You can play it, I guess!
Currently 5 main chapters and 4 side chapters.
Chapter select! Play in any order and re-play chapters if you want to grind characters up! Stats/items carry over!
Shared convoy! This is mostly for fun, it's shared between every team so you could theoretically cheese that way.
Some marginally unique animations!
…Lots of foxgirls?
A few other races like Elves and Dwarves.
Convoluted writing! Seriousness and humour is somewhere around 50-50
Every chapter has different music!
Thracia trading!.. And convoying! (That is, neither take a turn if cancelling)

Cast!


Gameplay!
FE: X-1 ~ Unease Before Chaos (Release) - YouTube

Screenshots

Chapter selection!

Annihilating zombies through utter fear!

2-3 bow range and weapon triangle addition! (Bow>Sword/Axe/Lance) only on initiative, no advantage or disadvantage if you're under attack.

People complaining about monsters smelling bad!

Disintegrating bandits with a tiny robot!

Zombie bishops!

A chapter to abscond with all of the shinies!


I also do progress/gameplay on this on my Youtube channel.
…If I forget to remove Neoma from the chapter select, I quite recommend not saving in the 'test' chapter! Have fun playing it though.

Changelog

v.1.0.1.20221226222244

Valentina's magic rank removed, it wasn't supposed to be there and somehow I never noticed it was.
Tafel no longer starts with Provoke skill
Lillith can now use her own tome. Not that you'll want her to.

v1.0.2.20221227144737

A few item descriptions reworded, like 'effective against infantry' now being 'effective against armour/cavalry'.
Now all ultimate-like weapons only have 20 durability-- aside from Aurion having 40 (Since it's weaker and is used more often) and Juniper's I.E.E. due to being unique. (And like, infinite)
Sterling's Amaterasu skill replaced with Bond, so he 'should' passively heal allies now.
West-side enemies in X-3 nerfed a bit.
Juniper's caps reduced to 25 (So they'll have 40 max with the I.E.E. bonuses)
Added more targets to effective weapons (So the Swordslayer in X-3 is actually effective to Akiyama for example)

v1.1.0.20230105204133

Chapters X-5 and X-S3 added!
Some funky portaits in the statscreen should be fixed now.
Light magic changed around, all Light tomes now buff/support in some way (Aside from Judgement since its thing is an attack version of sleep).
Wicked's Might and Weight upped. (16 Mt > 17, 9 Wt > 15)
Ultimate weapons will now disappear from your inventory upon redoing their origin chapter, this is so you can't just stock them infinitely.
Updates to Velvet/Vagrant's Vanaheim animations.
Updates to Yuki's sword animations.
Update to Spartan class' weapon animations.

v1.1.1.20230107085320

The last boss now actually does damage properly, goodie!
Last boss should now be less obnoxious with a certain skill activating, Barricade+ added so you don't just kill it in a single turn. (Probably)

v1.1.2.20230107174628

Things seem to have portrait changed accidentally while I was playing around with stuff, that should be fixed now, oops! (In particular, Lakche's portrait in X-2)
Sapphire's Banneret class has 6 move to be in line with the other classes.
Update to Io's sword animation.
Update to Ceres' sword animation.

v1.1.3.20230117224138

Fixed a typo in last boss class' description.
Small camera fix for X-5 during some Entombed spawns.
Thieves and deriatives now have the Lightweight skill instead of Heavy Blade.
New conversations for X-5.

v1.1.4.20230219221237

A few 'ultimate' weapons didn't reset properly in X-5, that should be fixed now.
Typo fixes.
Obscura Stella had the wrong weapon description. Oops.

v.1.2.0.20230626110412

Character status screen changed to be more consistent with Book II, same with chapter intros (…retroactively)
A bunch of map sprites-- mostly monster were squished to decrease the chance for weird map sprite shenanigans.
Judgement's tome icon changed to what it should have been this entire time.
Chapter X-S4 now exists!
'Big Velvet' portrait updated to be more consistent and have proper fluffy ears.
Juniper's Infinite Energy Engine renamed to Infinite Energy Engine Alpha, nerfed to give +15 STR/SKL and +7 DEF/RES, but they've also gained Infinite Energy Engine Delta giving +15 DEF/RES and +7 STR/SKL and Bracing Stance skill.
Lyre has a new little animation for her Final Hour bow.
Title screen updated a bit.
Characters you've got killed will now be revived upon doing their origin chapter via the power of necromancy!.. They'll start at their base stats though, so there is still punishment there.

v.1.2.1.20230628205616

Fox grandma Azukiiro's portrait updated for proper ears… again. (i forgot for the supposed 'final' update oops)
Fixed growth mode added as an option.

v.1.2.2.20230704090918

You should be able to steal things properly again!
No more weapon rank limits, if a character has a rank it can become S.
The level cap glitch should be fixed now.

v.1.2.3.20230709222900

Weird chapter select glitchy enemies are no longer an issue.

v.1.2.4.20230718172152

Title screen updated more. Opening 'movie' no longer plays.
Inspirations and stuff~

Fire Emblem series (Naturally!), Tales series, Ys series, Kingdom Hearts series, Live A Live, Xenoblade series, Metroid series (I mean there's a robot with beams), Zelda series
Likely more I forget, but that's the issue with forgetting, you don't remember them.