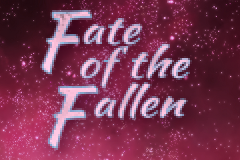 Well, hello there, funny seeing you here. Do you come here often? Or do you just drop by when I have an awesome game to share? Well, if that's the case, you're in luck.
I've been working on Fate of the Fallen for the better part of a year. A lot of that was taking the time to learn the engine, learn to splice, and gain a grasp of code, all of which have helped to make FotF a game I'm proud of.
Unlike my previous two releases, FotF is far less out there FE wise. It has traditional chapters with party members you can recruit, promote, lose, and trade between. It has regular rescue mechanics and FE8 stats. I really stretched my legs making ToT and ARS, but I could only do that because I got comfortable enough with the engine while making FotF.
While the gameplay mechanics might not be as new and crazy as ToT and ARS, the game itself still has enough there to be an interesting, awesome, and fun experience.
I will say, I've been told that the plot is best experienced with as little warning as possible as to the nature of the game. So I'd ask that we avoid any spoiler talk so we can provide the best experience to new players. Thank you.
Summary

The story of Fate of the Fallen begins as the first prince of Vosferr, a power hungry nation, attacks the royal castle of Magnyria to slaughter their royal line. However, his quest to end the life of Princess Risariya Magnus de Magnyria acts as a catalyst in this tale of war, life, and death.
Features

Supports (Currently all C ranks have been written. Plus some extra.)
8 Playable Chapters + a Prologue and a Gaiden.
Bow Lord!
Skirmishes
Secret Missable Characters
Unlockable Skills
So Much Music
Member's Card
Mean Despots
Good Princesses
Aloof Swordsmen
Bandit Trio Favoritism
Secret Items
High Growths
Branched Promotions
Screenshots










Trailer
Link To Play & Instructions

Fate of the Fallen
Just open the folder and click the "double_click_to_play.bat" file.
Current Known Game Bugs

If you encounter the gate to 11x after completing 11x, refuse to enter. This will block it from reappearing again. Entering a second time will cause you to be unable to progress.
I hope you enjoy my new game, it'll be getting the bulk of my attention from now on until I finally finish it. This release only has 7 chapters, but I'm actually a bit further than that. These are just the most polished, and I wanted to release with my best foot forward.
My current plan is to release a new chapter every month on the 1st. These chapters will release first on my Patreon and then a month later they'll be released to the public. You can think of this as an early release for FEU, since I've grown fond of a majority of the community.
Initial Plan

On the first of July, I posted Chapter 8 on my Patreon. On August 1st I'll release Chapter 9 to the Patreon and Chapter 8 publicly. This will continue until I finish FotF, and then proceed to work on my next projects.
August Update

As of August 1st, I've updated the Public version with Chapter 8 and the Patron version to Chapter 9. I'm finding myself much more motivated to finish this game than I thought. It might have something to do with the recent updates to the LT engine, or it could have to do with the work of other Devs encouraging me, or maybe it's just something about FEE3 in the air. Regardless, work on FotF is coming along smoothly and in fact I could see myself maybe releasing multiple chapters next month to the Patreon…
September Update

As of September 1st, I've updated the Public version with Chapter 9 and 9x and the Patron version to Chapter 10. I didn't manage to release anything extra this month, but as I'm coming to the end of my first playthrough of Baldur's Gate 3, I anticipate this next month to be far more productive
October Update

As of October 1st, I've updated the Public version with Chapter 10 and the Patron version to Chapter 15. It turns out September was a big month of work for me. The Patreon version is now well on it's way to being finished by the end of the year. The real hard part is that I keep wanting to put new stuff into it.
November Update

As of November 1st, the thread got a surprise release during FEE3 of Chapter 11/11x. I've also now included a link to Chapter 12 on the Discord, this link will be added to the FEU thread in several weeks for anyone who just despises Discord. The Patreon has been updated to chapter 16, and 17-20 are just about ready to be polished and added next month. October was a lot of maintenance more than anything. Did a lot of work to make sure I had something nice to show off for FEE3, and then did a lot more work to improve that work with nice visuals and audios. We are about as close to that finish line as you can get.
I'd also like to give my Patron's some voting power on things they'd like to see in upcoming releases as far as extra content. Whether this is more/Specific Supports, Items, reworks, Skills, Characters, etc… I really like the idea of giving the fans some say in the game they enjoy.
I also have a pretty bare bones discord that I'd love any input on what to do with.
I've always wanted to create games for a living, and while I've worked on a few as a contract writer, this will be a learning experience for me as the sole developer of my own project.
So if you're a fan of my work and want to help support me, please consider checking out my Patreon and Ko-Fi pages. And if you can't afford to support me financially, that's cool too, it's still a big help just playing my games, sharing them with people you think would be interested in them, and sharing your experiences with me.
Okay, I feel like I've been going on long enough, you've got a game to play, and I've got a new chapter to work on. As always please feel free to reply with any bugs, questions, concerns, or just to talk about the game.
Thank you for playing my game, and I hope you enjoy Fate of the Fallen.
---
FEE3 2023 Video!